The most intelligent, intuitive and immersive AI powered optimization software tools for your data center.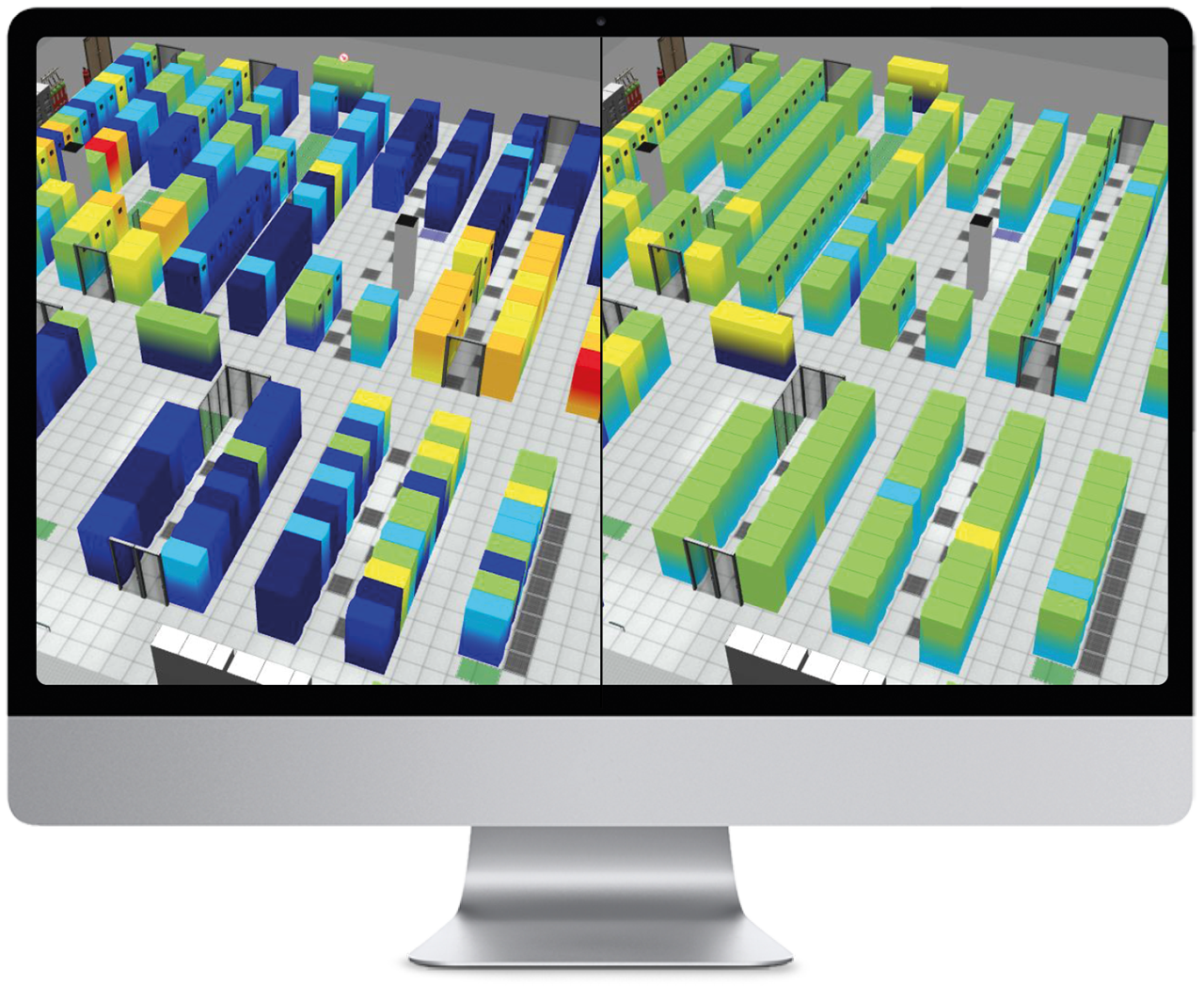 EkkoSoft Critical 3D visualization and analytics software enables operations teams to remove thermal and power risk, minimize cooling energy usage and costs, and support ESG programs through quantifiable carbon savings.
Digital
Twins
Immersive real-time optimization
of all your data center rooms from the
smallest Edge site through to your largest facility.
Cooling
Advisor
The industry's first fully embedded AI driven cooling advisory tool. It's just like having your own in-house optimization consultant – then some!
Capacity Planning &
Power Management
Intuitive, real-time M&E Capacity Planning
and Power Management for entire
data center estates.
Estate Dashboard
Consolidated interface for
capacity, power, thermal
performance management and reporting.
3DCIM
Integrating the best M&E platform
with the best asset management platform
for DCIM done right.
Hardware
Disrupt traditional data gathering cost models
with our IoT suite of sensors and
flexible integration solutions.
There's nothing like
Ekko

Sense

Comprehensive and cost-effective
BMS
EPMS EMS
CFD
DCIM
Live Granular Monitoring
(Rack/power/cooling unit)
White Space
Optimization
Machine Learning and
Software Analytics
Enhanced Cooling Unit
Performance Monitoring
M&E Capacity
Management
2-Way Active
Control Capability
Power Distribution
Monitoring
Grey Space and M&E Plant
Modelling & Simulation
Enterprise Wide Dashboards
ESG Reporting
Easy to Use and Manage
Typical Deployment Model
On-Prem
On-Prem
On-Prem
On-Prem
SaaS
Time to Value
Clearly Identifiable Operational Savings and ROI
Total Cost of Ownership

Coming 2024
Still not sure?
Most common objections
EkkoSoft co-exists onsite with BMS and often shares the same datasets (power logging for example). BMS is your 24x7x365 mission critical operational alerting platform, whereas EkkoSoft provides you with advanced analytics and machine learning outputs to allow you to manage and optimize your data centre for maximum efficiency.
CFD is used for simulating proposed changes to your live environment and is typically a one-off consultancy led exercise. EkkoSoft provides continuous white space optimization capabilities and also provides granular real time monitoring and full M&E capacity management functionality to reduce risk, reduce costs and release capacity.
Great, we'd love to hear more about it to see if it genuinely provides the full range of risk reduction, energy saving and capacity release benefits that EkkoSoft provides. EkkoSoft can also integrate with many existing sensor platforms to protect your hardware investment, whilst allowing you to leverage the benefits EkkoSoft.
EkkoSense takes security extremely seriously and is ISO 27001 certified EkkoSoft is extremely secure and used by some of the largest financial data centre companies in the world.
All data flows are fully encrypted.
The security of the EkkoSoft platform is tested for vulnerabilities regularly by external organisations.
Cloud-based software allows us to keep costs low, a fraction of the cost of traditional on-prem, perpetual licensed based platforms.
Being cloud-based allows us to provide customers with regular software updates.
Most organisations with concerns usually find that cloud-based systems are already in use in other parts of their organisation.
Our cloud-based platform provides unlimited growth and scale capabilities for any customer.
The EkkoSense sensors operate in the ISM low frequency band and transmit small packets of data which don't travel very far.
Our sensors operate in a frequency band which is completely independent from typical Wi-Fi or Bluetooth signals.
EkkoSoft can also operate completely air-gapped from the customers network if necessary.
Another thing to consider here is the value of the data to a nefarious actor – it's 'only' anonymous thermal data.
EkkoSoft can integrate with 3rd party wireless or wired sensors to protect any previous investment in other sensor platforms.
Data from EkkoSense sensors is encrypted and customers can update their encryption keys as required.
We understand that for some customers an outright purchase is preferred, but that is not typically the way cloud-based software is billed. In addition, an outright purchase would have a much higher initial cost.
The advantages of a SaaS model:
There is no annual maintenance billing.
Enhancements to the software are included with your subscription.
No downloading software updates.
The software resides in the cloud and runs on extremely powerful servers.
Communication to the cloud are initiated by a handshake from the EkkoLink within your facility.
Connect with
Ekko

Net Global Partners

Internationally recognized consulting and knowledge base, universally trusted delivery solutions, world class regional support.
Talk to an
Ekko

Sense Expert

Get in touch with questions, sales enquiries or to arrange your free demonstration.