EkkoSense to attend DC Ireland Show 20-21st Nov, Dublin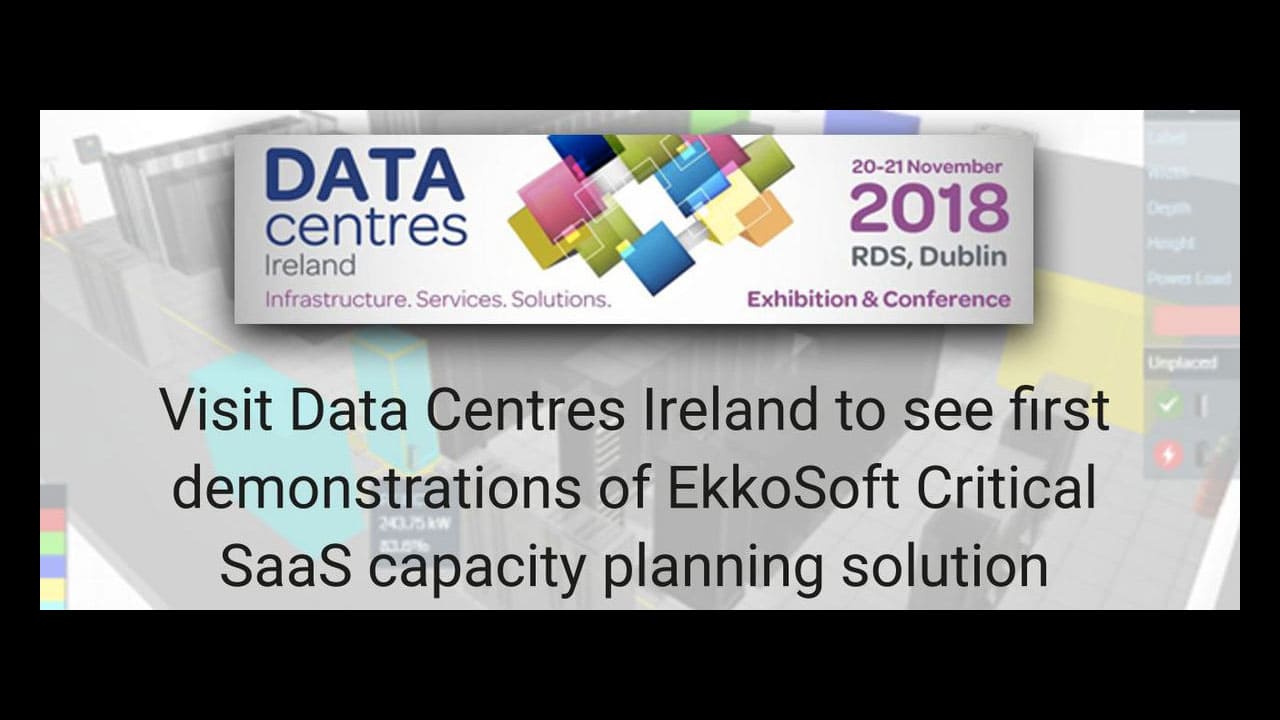 First demonstrations of EkkoSoft Critical SaaS data centre Capacity Planning solution, offering DCIM-class optimisation for a fraction of the cost

Nottingham, 15thAugust 2018: EkkoSense has confirmed that its newly appointed Sales Director, Jason Kaye will be speaking at the upcoming Datacentre Ireland Show, Dublin 20-21stNovember.

EkkoSense will be presenting its new EkkoSoft Critical 4.1data centre capacity planning solution at the show, with demonstrations showing how its advanced 'What if?' simulation capability now lets data centre managers experiment safely with new rack, power and cooling layouts – delivering DCIM-class Capacity Planning and Simulation at a fraction of the cost of traditional toolsets or consultancy-led solutions. EkkoSense's software lets data centre managers find out exactly what would happen to their thermal performance and power resources if they were to install a new rack or relocate existing IT equipment, providing the answers they need within seconds.

"At DC Ireland 18 I'll be discussing how thermal and power optimisation should now be a critical component of a well-run data centre, particularly given its proven ability to reduce risk, reduce data centre utility costs and increase capacity," commented Jason Kaye. "At EkkoSense our distinctive combination of low-cost temperature sensing and SaaS-powered 3D visualisation and optimisation software ensures that our customers not only benefit from the re-assurance of a thermally-optimised data centre that isn't going to overheat, but also enjoy an average 25-30% reduction on their data centre cooling costs. It's this combination of reduced risk and costs that makes EkkoSense's approach to thermal optimisation and capacity planning such a compelling option for today's data centre and facilities management teams."

Visitors to the show will also be able to see the software in action for themselves on the EkkoSense stand – 214. Jason will be speaking to the show visitors on the first day in Conference Room 2 at 14.00. If you would like complimentary tickets for the show, please do get in touch.
EkkoSense solutions are available directly, or through the company's expanding network of international partners across North and South America, Latin America, Europe, the Middle East and Asia Pacific.
---
www.ekkosense.com
Follow us on Twitter @ekkosenseUK
Press Contact: Cheryl Billson, Comma Communications – PR for EkkoSense,
+44 (0)7791 720460
[email protected]