EkkoSense to attend PTC'23 Conference, Hawaii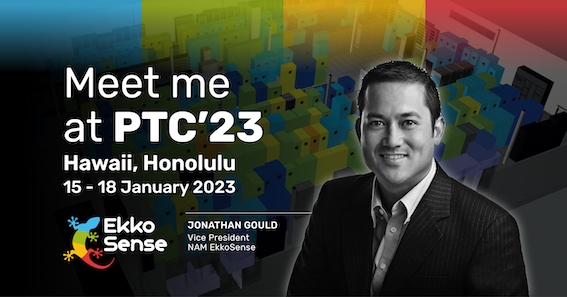 Contact Jonathan Gould directly to arrange a demo at PTC'23, 15-18 January 2023
EkkoSense, the global leader in the provision of AI-driven performance optimization for data center and M&E environments, will be attending PTC '23 – the Pacific Telecommunications Council's annual conference – in Honolulu, Hawaii next week (15-18 January).
Jonathan Gould, EkkoSense's Vice President for the Americas region, sees PTC'23 as one of the industry's premier telecommunications and ICT events, and is looking forward to sharing insights into how AI-based software is now redefining optimization for today's data center and M&E operations.
"The telecom and co-location industry is facing particular issues around how their operations can handle increasing data center workloads while still contributing to broader corporate ESG initiatives and carbon reduction goals," explained Jonathan. "PTC'23 is a great opportunity to share how EkkoSense's distinctive AI-powered performance optimization can help telecoms and colos meet this challenge. I'm looking forward to meeting colleagues from across the industry in Hawaii next week, and sharing how EkkoSense can help make a difference."
"Our EkkoSoft Critical software is already helping colos and telecoms operations teams to enable increased workloads, ensure risk reduction, and support sustainability initiatives – all at the same time," he continued. "That's why EkkoSense is gaining traction. Digital Realty Company Interxion, for example, reduced cooling energy system usage by 20% during the first year of an ongoing data center optimization project with EkkoSense. PTC event sponsor Telehouse, also recently announced that it is set to achieve a 461 tonnes reduction in carbon emissions with EkkoSense."

EkkoSoft Critical software delivers quantifiable reductions in cooling energy usage, helping data centers to reduce energy consumption at a time when electricity prices have never been higher. With EkkoSoft Critical, EkkoSense delivers a compelling business case, enabling true real-time M&E Capacity Planning for power, cooling and space at a fraction of the cost of more expensive and complex DCIM solutions. With its light-touch, software-based approach, EkkoSense also helps data center teams to secure immediate benefits, with rapid deployment and non-invasive nature contributing directly to carbon reduction targets. Video.
PTC'23 attendees can contact Jonathan Gould directly to arrange a live EkkoSoft Critical demonstration or discuss their specific data center optimization requirements.

About EkkoSense
EkkoSense is an industry leader in the provision of advanced sensing technology, SaaS DCIM-class visualization & monitoring software and analytics solutions for critical facilities such as data centers. The company is committed to eliminating thermal risk and helping organizations to monitor, manage and maximise their data center performance. www.ekkosense.com Follow us on Twitter @ekkosenseUK
Press Contacts:
Cheryl Billson
PR for EkkoSense
+44 (0)7791 720460
[email protected]