EkkoSense to demonstrate AI-enabled data center optimization at Data Center World 2023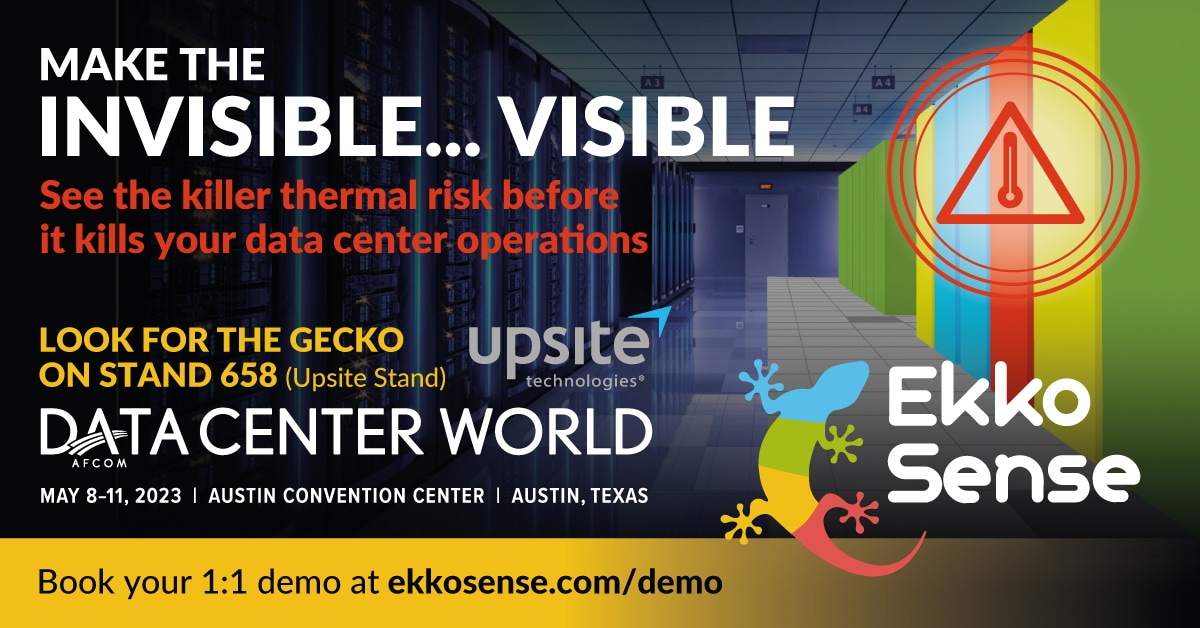 EkkoSense the global leader in the provision of data center cooling optimization software, will demonstrate major enhancements to its AI-powered Cooling Advisor tool at the Data Center World AFCOM show in Austin, Texas, May 8-11.
Powerful new capabilities will include Cooling Advisor's unique Floor Vent Advisor algorithm that adds new functionality for balancing airflow and temperatures across data center rooms. Floor Vent Advisor's algorithm shows data center teams exactly where they can remove/add or open/close floor tiles, leading directly an improved thermal performance.
EkkoSense is attending the show with its US partner Upsite Technologies and will run demonstrations of its machine learning and AI-enabled EkkoSoft Critical 3D visualization and analytics software at Booth 658. The company will also be exhibiting the latest version of its EkkoAir wireless cooling duty sensor that provides real-time tracking of cooling duty loads for any CRAC/AHU unit. EkkoAir is now able to collect data from chilled water and free air units, providing operations teams with a much greater understanding of chilled water flow rates and potential cooling anomalies.
"EkkoSense already sets the standard when it comes to AI-enabled, software-driven data center optimization with case studies confirming quantifiable energy savings and carbon reduction from customers such as Digital Realty, Virgin Media O2 and Telefonica", said Dean Boyle, founder and CEO who will be attending the show. "At Data Center World '23 we're looking forward to showing how EkkoSense is taking things further to benefit data center operators, significantly extending our distinctive Cooling Advisor offering, and also building out EkkoAir's cooling duty sensing capability.
"With data center operators under pressure to increase capacity, meet ESG targets and also reduce energy use, EkkoSense aims to provide operations teams with the real-time insight and advice they need to not only optimize their data centers, but to also keep them running in a consistently optimized state," continued Dean Boyle. "We're already delivering impressive benefits in terms of risk reduction, capacity management, energy saving and carbon reduction for our customers, but we're not standing still. New enhancements to our solution – such as Floor Vent Advisor and our latest EkkoAir updates – mean that data center operations teams can rely on EkkoSense to enable them to deliver an even more finely-grained response to real-time conditions."
EkkoSense isn't stopping there. Through 2023 the company's R&D team is also focused on taking its capacity planning capability further forward to offer an entirely new grey-space simulation capability. Data Center World attendees can contact Jonathan Gould directly to arrange a live EkkoSoft Critical demonstration, see Cooling Advisor in action, or discuss individual requirements for data center optimization. Alternatively, please book a demo here www.ekkosense.com/demo Video.