EkkoSense SaaS data centre Capacity Planning solution delivers DCIM-class optimisation for a fraction of the cost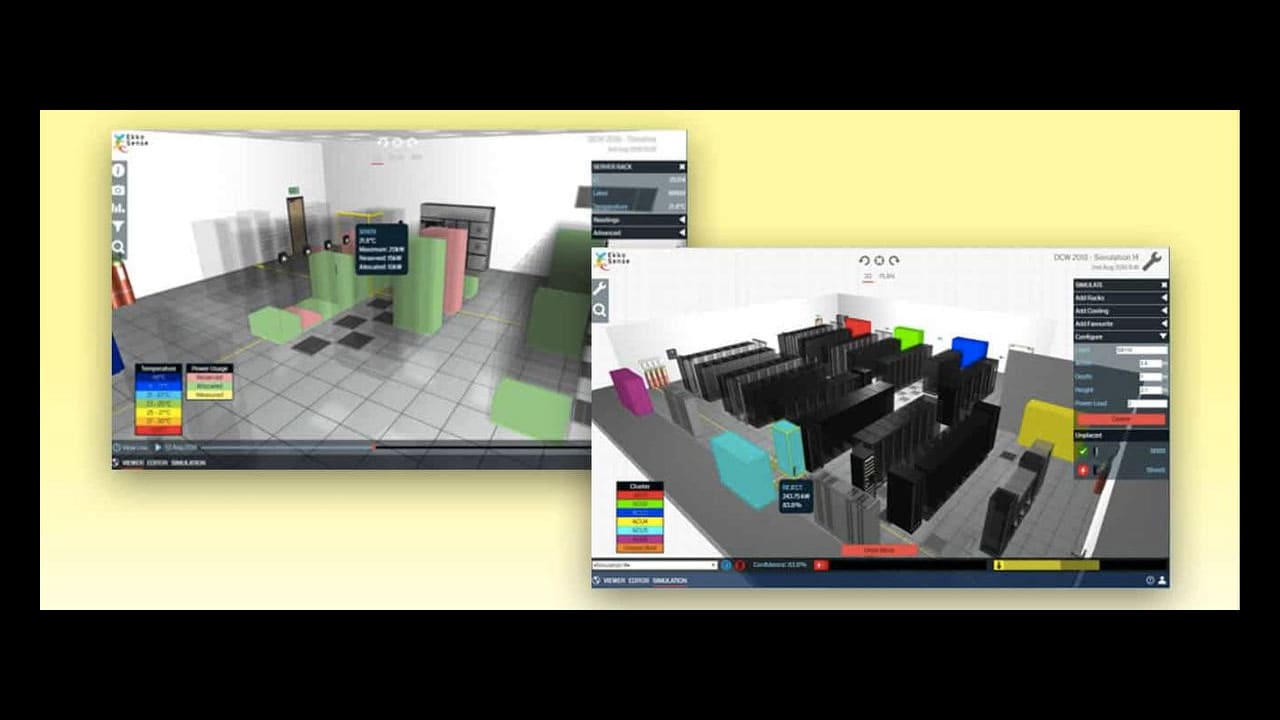 New EkkoSoft Critical 4.1 release unlocks comprehensive M&E Capacity Planning with full Cooling and Power coverage, as well as powerful real-time 'What If?' Simulation support

Nottingham, 7th August 2018: EkkoSense, the UK-based data centre thermal optimisation specialist, has introduced a major new release of its SaaS-powered 3D visualisation and optimisation software. EkkoSoft Critical 4.1 delivers unrivalled M&E Capacity Planning and Simulation capabilities for data centre and facilities management professionals, offering full Cooling and Power capacity planning coverage as well as powerful real-time 'What If?' simulation support.

Unlike over-complex DCIM or consultancy-led CFD approaches, EkkoSoft Critical 4.1 is based on rigorous data centre thermal and power management engineering principles, and is set to disrupt the sector by providing data centre operators with true DCIM-class Capacity Planning and Simulation functionality at a fraction of the cost of traditional infrastructure management approaches. With EkkoSoft Critical 4.1 in place, data centre managers can – for the first time – benefit from real-time visibility of their critical heartbeat operational data, while advanced 3D Simulation capabilities gives data centre teams the ability to experiment safely with rack, power and cooling layouts, confident that EkkoSense's real-time optimisation software will deliver optimal M&E configurations.

"Given that so much data centre operator and facilities management time is taken up with tracking data centre thermal performance and ensuring the right cooling, power and space capacity strategies are in place, EkkoSoft Critical 4.1 provides the data centre management toolset needed to save time and at a fraction of the cost of complex DCIM suites or CFD consultancy approaches," commented EkkoSense's Chief Technology Officer, Dr. Stu Redshaw. "With this latest release EkkoSense is delivering on its commitment to broaden out the capabilities of our proven EkkoSoft Critical solution by building on our powerful real-time 3D visualisation software and room-building capabilities with the industry's most comprehensive provision of M&E capacity planning and simulation features.

"We've focused on making EkkoSoft Critical 4.1 particularly easy-to-use, removing the requirement for expensive consultancy support," he continued. "For example, our 'What If?' real-time scenario simulation offers advanced results based on our innovative Room Builder technology and live 'Zones of Influence', but operation is as simple as dragging and dropping critical rack and cooling assets into place and running simulations."
Key EkkoSoft Critical 4.1 Simulation, M&E Capacity Planning, Thermal Optimisation and Power Monitoring functionality that combines to provide data centre teams with a dynamic understanding of all cooling, power and space implications includes:

Simulation:
Add/remove racks and cooling machines virtually to simulate planned data centre changes risk-free

Instantlysee the impact of installing different density racks in specific locations on heat, power and space

Add predicted demand levels to site and assess the power impact of, for example, providing an additional 100kW of site load

Understand how planned data centre changes would impact thermal performance and ASHRAE compliance

Make real-time cooling, space and power data available for both simulation and capacity planning

M&E Capacity Planning:

Space planning and reserved space allocation to help unlock further capacity from an organisation's existing data centre cooling and power infrastructure

Unique 'Zones of Influence' capability that accurately captures new levels of data centre cooling data, energy usage and airflow distribution

Ability to manage site space utilisation and reserve space for planned projects

Ability to reserve site power on a per rack basis

Support for multiple data centres through Estate Dashboards functionality

Thermal Optimisation:

Comprehensive 3D visualisations of data centre thermal and cooling profiles

Rack-level thermal/airflow/power monitoring from IoT-enabled sensor and manual inputs

Monitor cooling loads and add predicted future demand levels

Monitor heat/hotspots and use 'Zones of Influence' data to understand cooling capabilities

Manage operation of cooling units and identify failing or inefficient assets

Power Monitoring:

Use the live 3D monitoring features to monitor site power useage and capacity and key KPIs (e.g,PUE)

Monitor consumption and capacity of all power assest onsite (e.g transformers, UPS's, PDU, CRACS and racks)

Monitor and manage rack power capacity and easily reserve and simulate future demand by individual

EkkoSoft Critical 4.1's comprehensive Capacity Planning and Simulation capabilities combine to enable data centre operators to improve the real-time management of the cooling, power and space aspects of their data centre capacity – helping to identify potential problems earlier that could threaten IT availability.

Average 25-30% data centre cooling energy savings

With additional capabilities such as support for multiple data centres with an Estate Dashboards feature, EkkoSoft Critical allows organisations to see exactly where and how they're currently under or over-cooling their data centre estate. This translates directly to significant energy savings, with EkkoSense customers already achieving an average 25-30% energy saving on their data centre cooling costs – resulting in a clear ROI in under a year. EkkoSoft Critical 4.1 features comprehensive reporting capabilities including thermal overview, cooling capacity, power capacity and space capacity updates. With the 4.1 release, EkkoSense also offers a full range of configurable alarms to provide email or messaging alerts for nominated data centre staff whenever data centre racks or cooling components go red.

About EkkoSense:

Calling on the most advanced sensing, software and analytics solutions, only EkkoSense can guarantee 100% ASHRAE rack-level thermal compliance for data centres, with guaranteed cooling energy savings and protection from thermal risk. Today the company has grown to become one of the IT industry's leaders in the provision of software-driven thermal optimisation for critical live environments. The EkkoSense data centre team consists of thermal, mechanical, refrigeration engineers and Ph.D. thermal experts with 20+ years' experience in optimising data centre environments. EkkoSense provides advanced software tools, data analytics and expert services to reduce risk, increase capacity and save energy in critical infrastructures.
EkkoSense solutions are available directly, or through the company's expanding network of international partners across North and South America, Latin America, Europe, the Middle East and Asia Pacific.
---
www.ekkosense.com
Follow us on Twitter @ekkosenseUK
Press Contact: Cheryl Billson, Comma Communications – PR for EkkoSense,
+44 (0)7791 720460
[email protected]