Marketing Resources
Company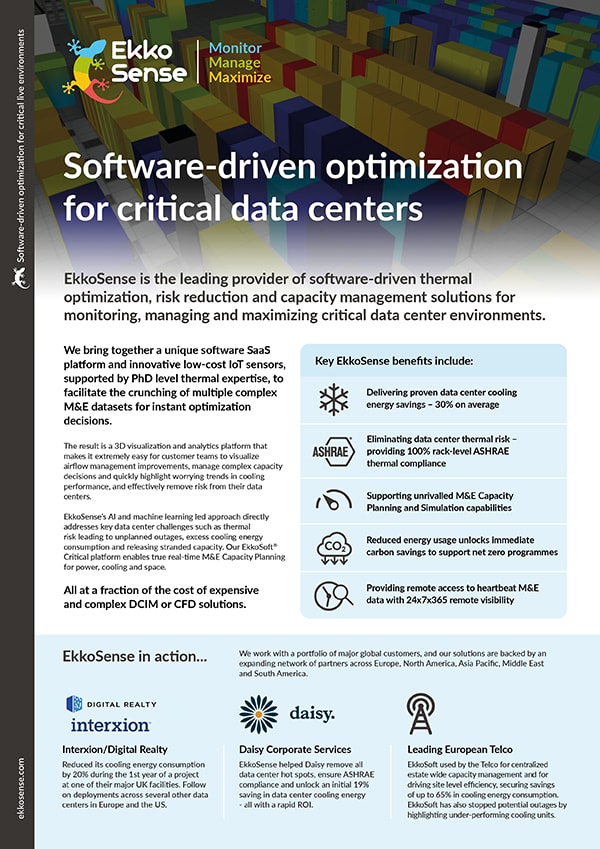 Software-driven optimization
EkkoSense is the leading provider of software-driven thermal optimization, risk reduction and capacity management solutions for monitoring, managing and maximizing critical data center environments.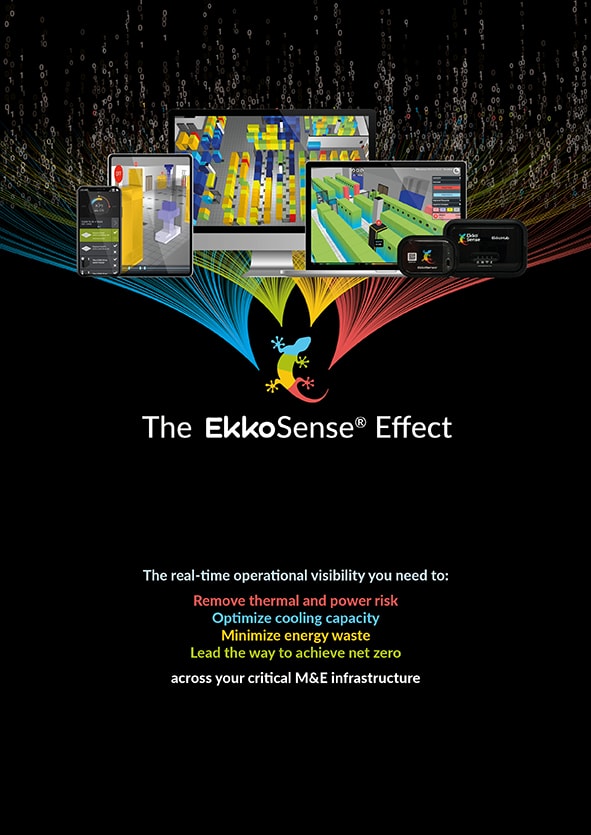 Product Brochure – The EkkoSense Effect
The real-time operational visibility you need to remove thermal and power risk, optimize cooling capacity, minimize energy waste and lead the way to achieve net zero across your critical M&E infrastructure.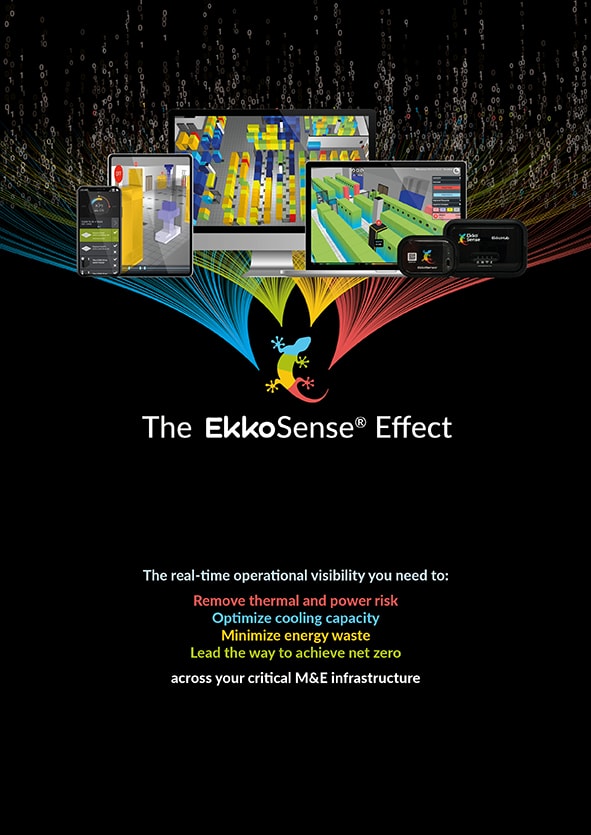 Product Brochure – Der EkkoSense Effekt
German language version of our product brochure.
Case Studies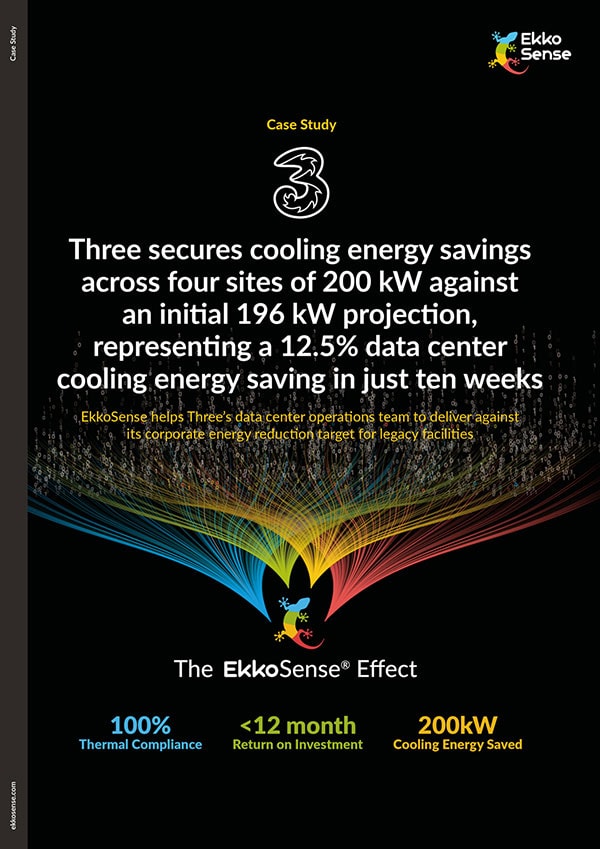 Case Study – Three secures cooling energy savings across four sites of 200 kW against an initial 196 kW projection
EkkoSense helps Three's data center operations team to deliver against its corporate energy reduction target for legacy facilities.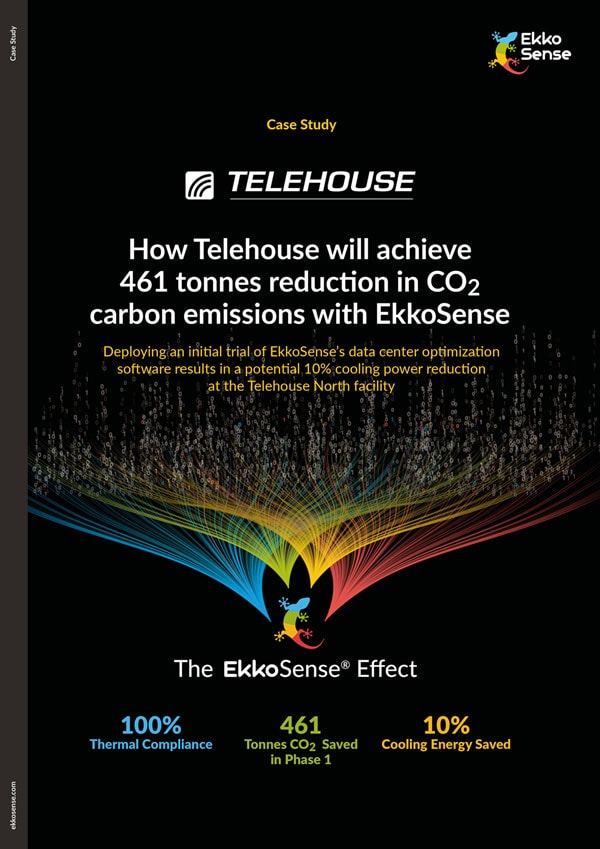 Case Study – How Telehouse will achieve 461 tonnes reduction in CO2 carbon emissions with EkkoSense
Deploying an initial trial of EkkoSense's data center optimization software results in a potential 10% cooling power reduction at the Telehouse North facility.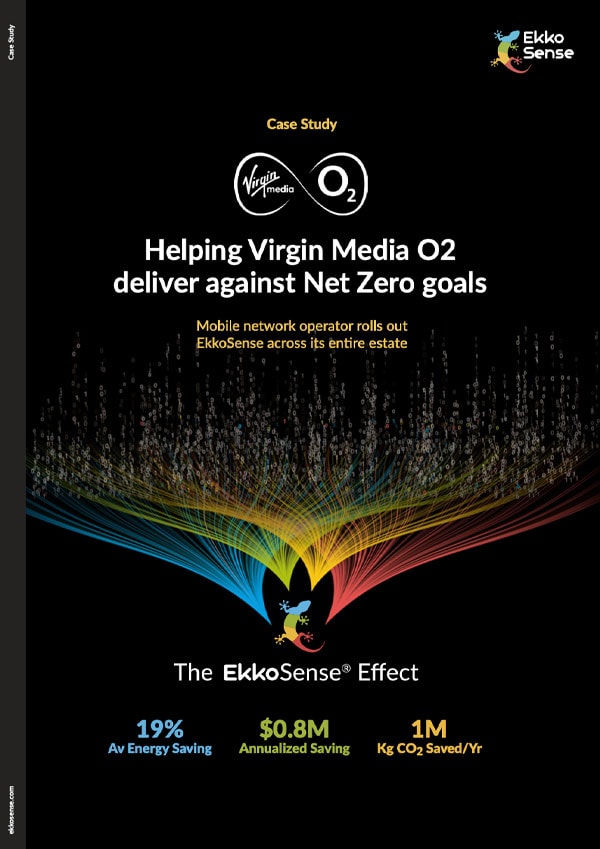 Case Study – Virgin Media O2
Major mobile network operator, Virgin Media O2, has rolled out new management software from EkkoSense across its entire estate. The software uses smart sensors fitted to data center equipment to monitor exactly how much cooling each site needs at any one time, and report back on how to optimize cooling as demand changes.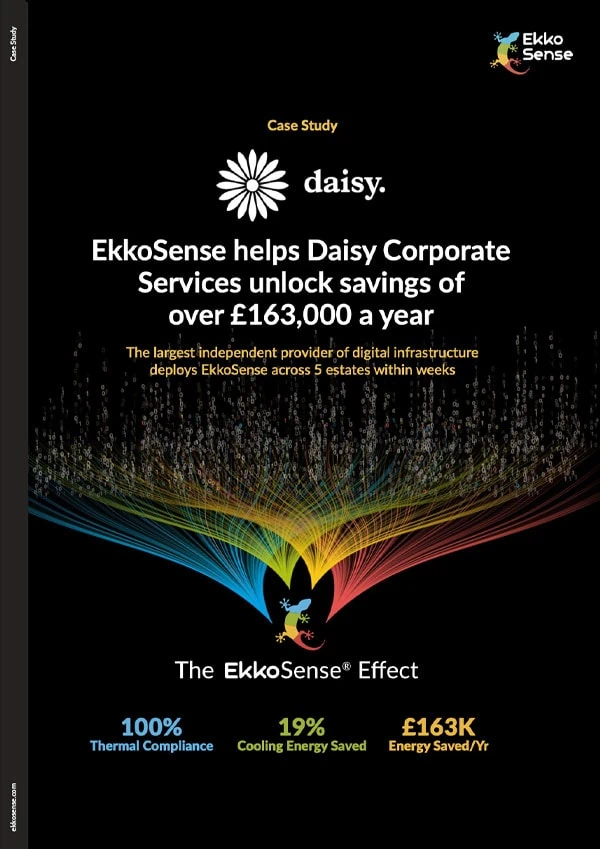 Case study – EkkoSense helps Daisy Corporate Services unlock savings of over £163,000 a year
Collectively, EkkoSense has now helped Daisy to save £163,000 in annual data center cooling energy costs – representing over 200,000 kW of electricity and a significant carbon reduction.
Software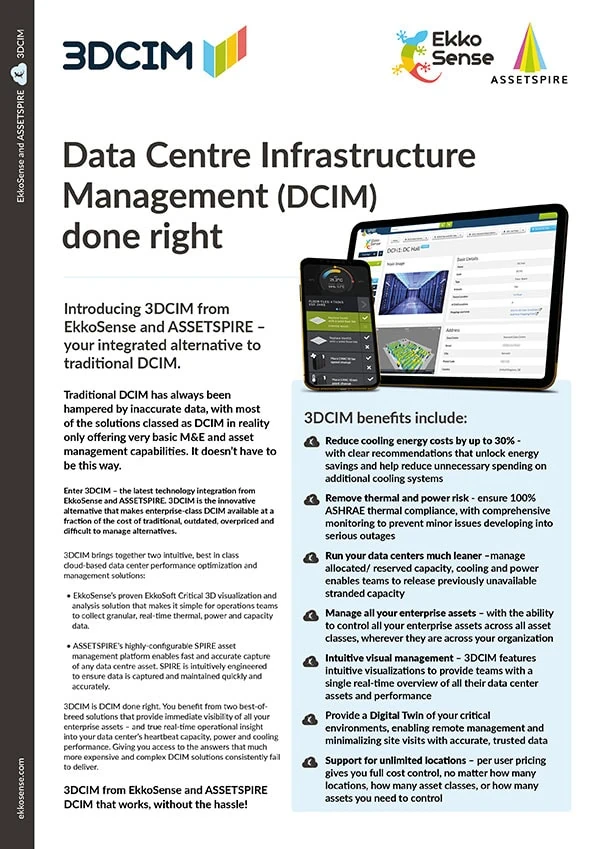 3DCIM
Introducing 3DCIM from EkkoSense and ASSETSPIRE – your integrated alternative to traditional DCIM.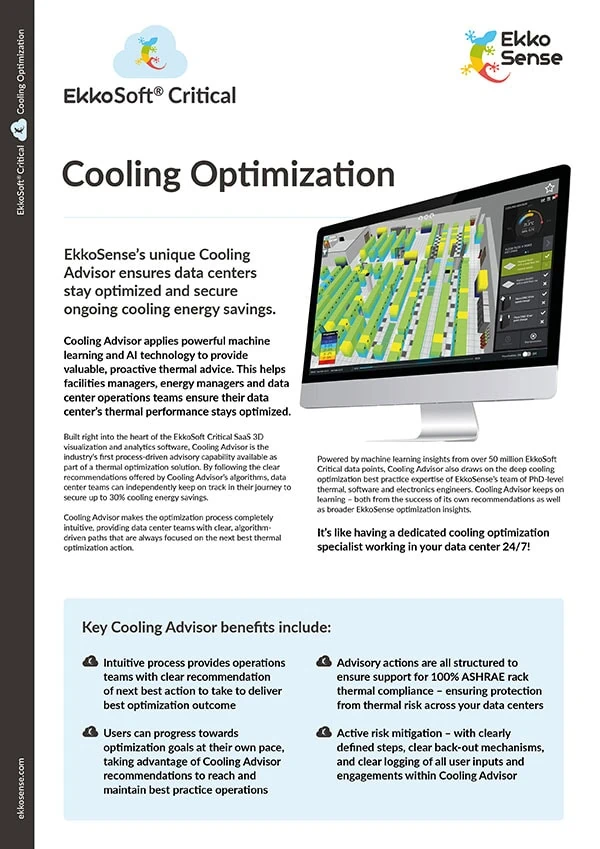 Cooling Optimization
EkkoSense's unique Cooling Advisor ensures data centers stay optimized and secure ongoing cooling energy savings.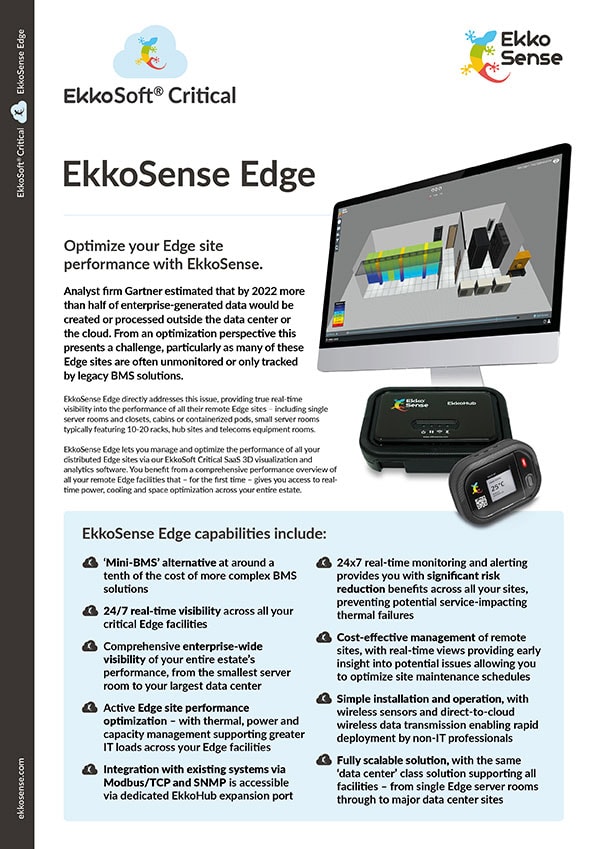 EkkoSense Edge
Optimize your Edge site performance with EkkoSense.
Risk Avoidance
Remove data center thermal risk entirely with EkkoSense.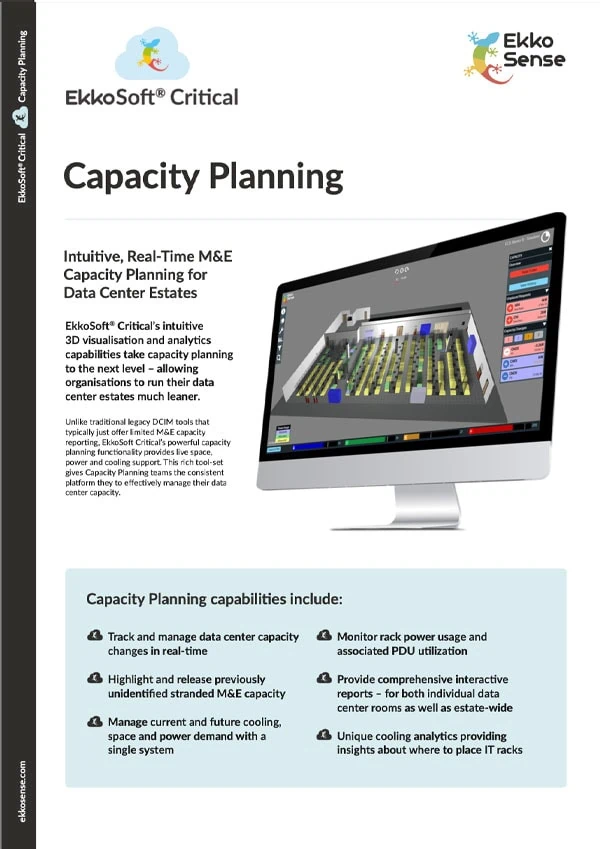 Capacity Planning
Intuitive, real-tim M&E capacity planning for data center estates.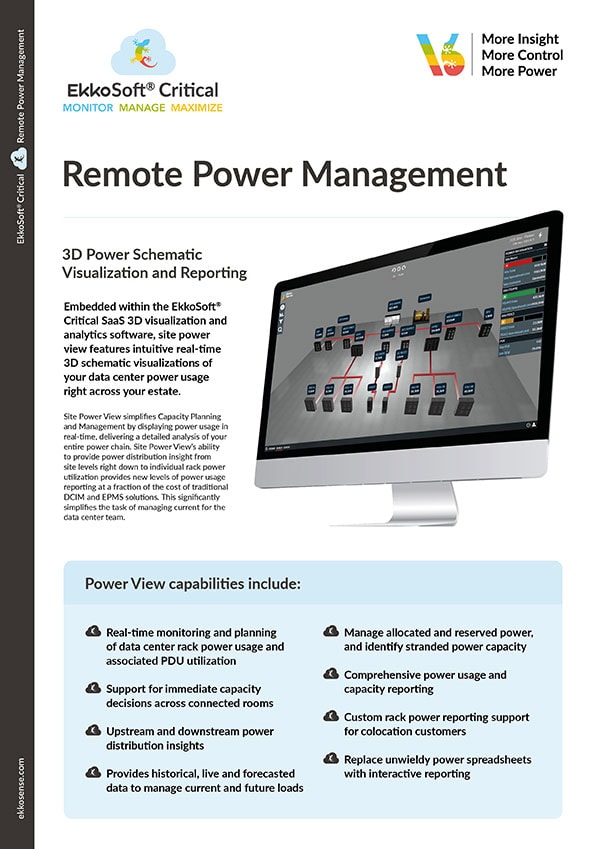 Remote Power Management
3D power schematic visualizing and reporting embedded within EkkoSoft Critical.
Hardware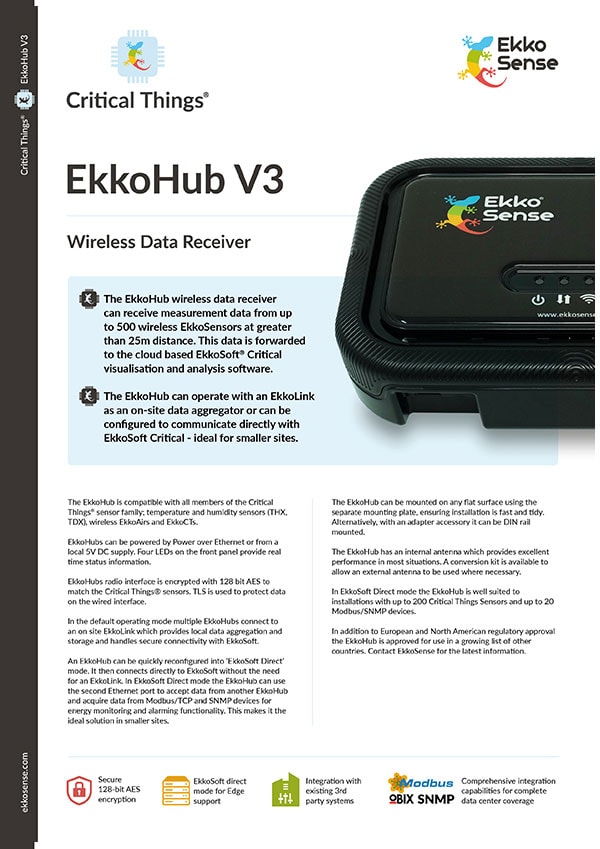 EkkoHub
Wireless data receiver.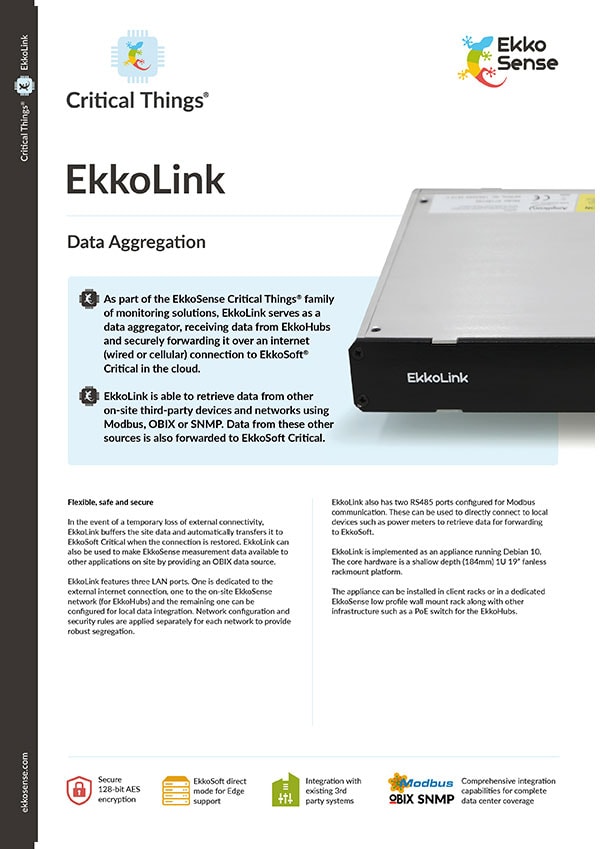 EkkoLink
Secure data aggregation to EkkoSoft Critical in the cloud.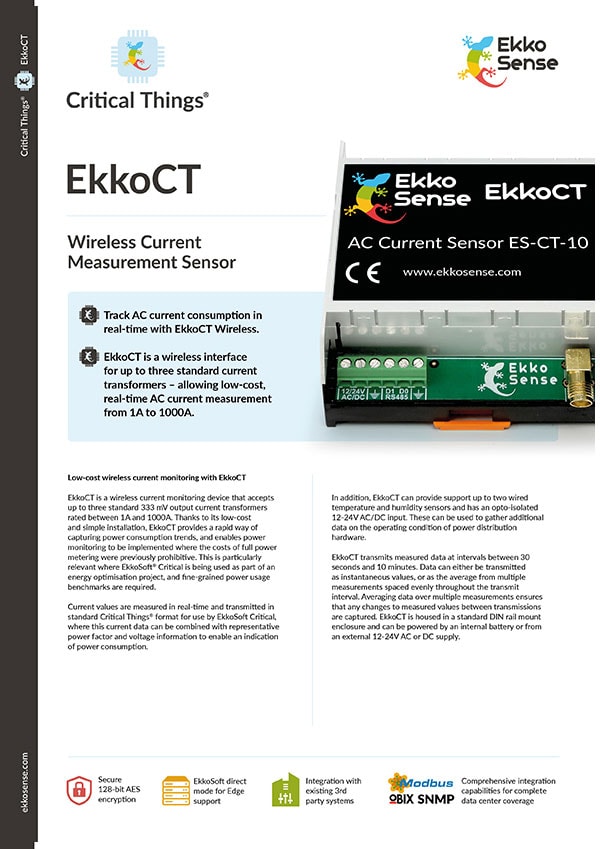 Wireless current measurement sensor.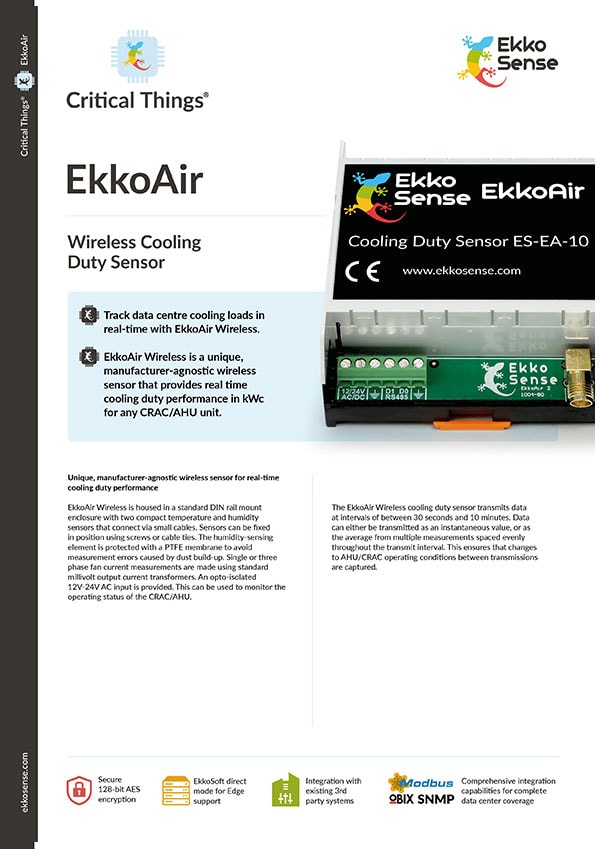 EkkoAir
Wireless cooling duty sensor.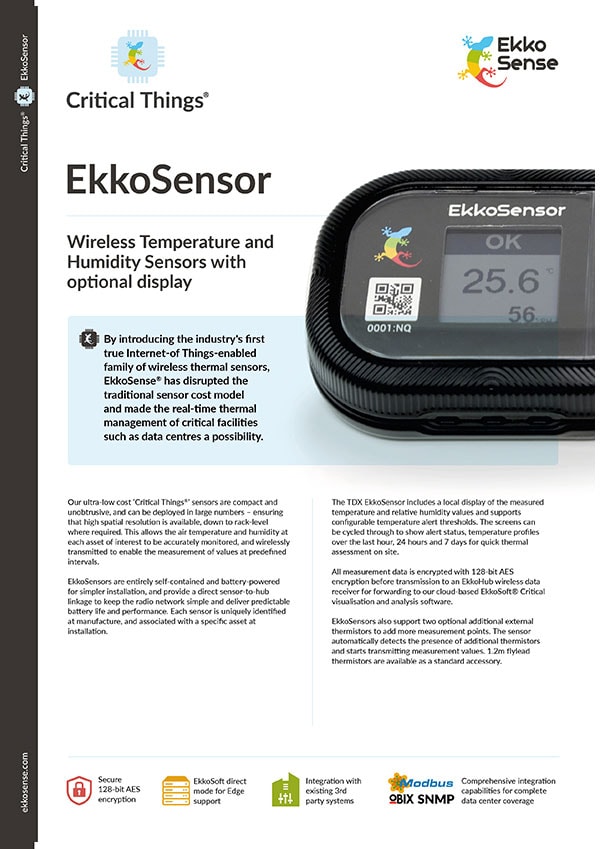 EkkoSensor
Wireless temperature and humidity sensors with optional display.
Connect with
Ekko

Net Global Partners

Internationally recognized consulting and knowledge base, universally trusted delivery solutions, world class regional support.
Talk to an
Ekko

Sense Expert

Get in touch with questions, sales enquiries or to arrange your free demonstration.