Capacity Planning and Power Management
Intuitive, real-time M&E Capacity Planning and Power Management for entire data center estates.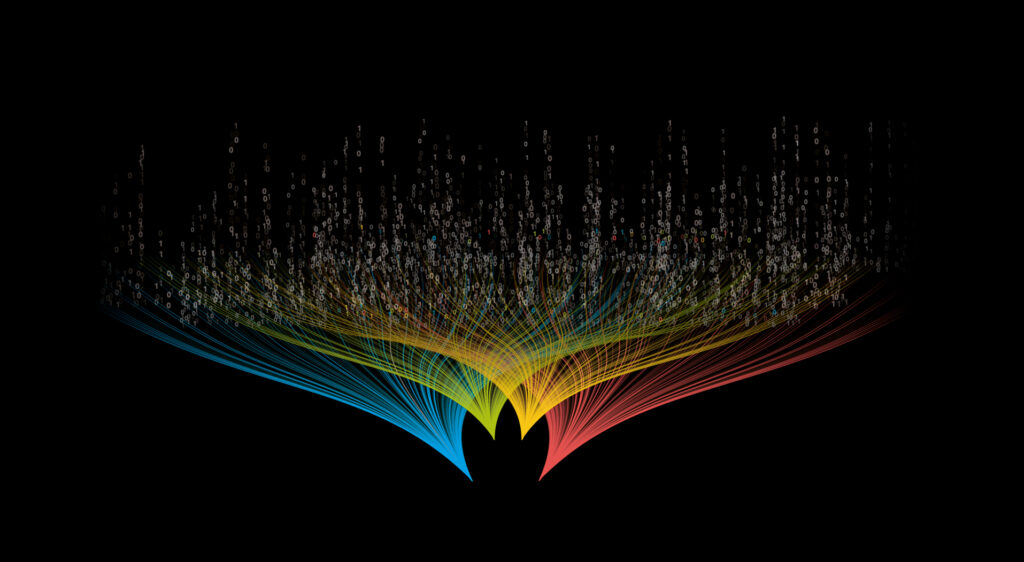 Track and manage your data center capacity changes in real-time, with the ability to make immediate capacity decisions across connected rooms.
Manage all your current and future cooling, space and power demands within a single, intuitive system.
Highlight and release previously unidentified stranded M&E capacity, avoiding potential additional capital investment.
Actively manage all your rack power usage and associated PDU utilization across your estate, ensuring precise control as you work. Reduce overall data center energy usage.
Replace unwieldy capacity and power spreadsheets with comprehensive power usage and capacity reporting.
Custom rack-level power reporting ensures new levels of support for colocation customers.
Taking data center management to the next level.
EkkoSense's distinctive software optimization model lets data center teams gather and visualize capacity, power and cooling performance at a much more granular level. This goes beyond traditional DCIM reporting tools to provide tangible M&E insights that – in turn – enable data centers to be run much leaner.
One of the main barriers to data center optimization is the complexity of traditional DCIM tools and CFD solutions.
EkkoSense's innovative 3D visualization and analytics capabilities take data center Capacity Planning and Power Management to the next level – allowing organizations to run leaner data center enterprise estates.
Traditional legacy DCIM tools typically offer limited M&E capacity and power reporting, and – because of this – continually fail to deliver aside from their core IT-based management strengths.
EkkoSense offers comprehensive capacity planning and power management functionality to provide true real-time space, power and cooling support. All of this at a fraction of the cost of traditional DCIM solutions.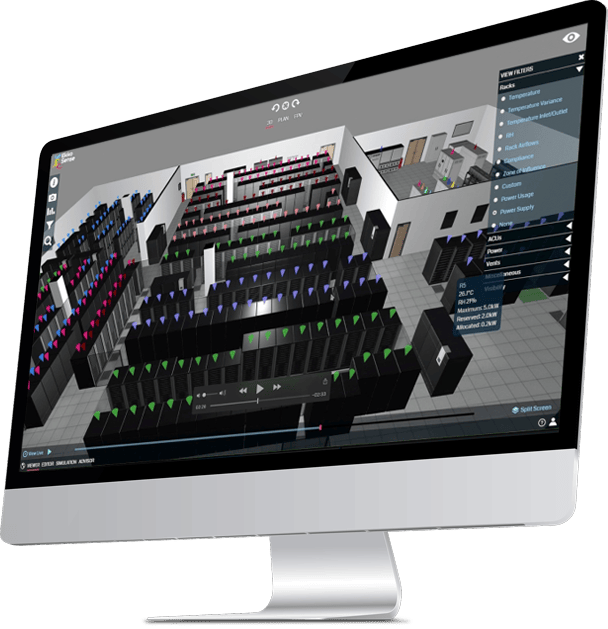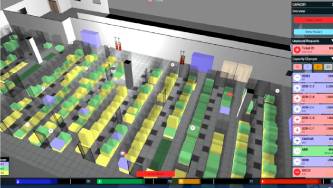 Comprehensive Capacity Planning and Power Management
Use the 3D live visualizations in the EkkoSense software to reserve data power and cooling for future IT projects. Site and system limitations are clearly tracked, while available racks can be filtered to clearly indicate those that meet all the criteria for a specific capacity request.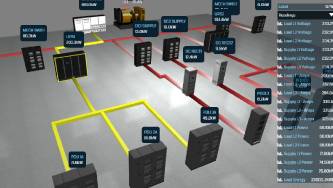 Interactive Site Power Distribution
EkkoSoft Critical's Site Power View provides detailed insight into upstream and downstream power distribution across your estate – from site level right down to rack level power utilization – delivering a detailed analysis of your entire power chain.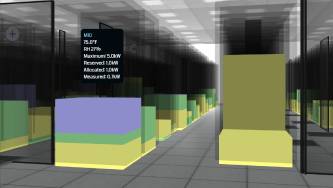 Full Estate-wide or Room-by-Room Live 3D Views
Powerful 3D visualization capabilities provide intuitive views of an organization's entire data center space utilization, power usage and cooling capacity – either on a room-by-room basis or across the entire estate.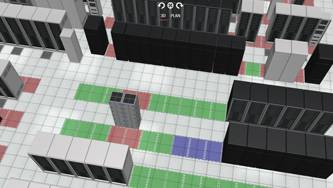 Space Management
EkkoSoft's comprehensive space management functionality allows for easy categorisation of existing and future reserved floor space plans to provision for planned and inflight IT growth and decommissioning requirements.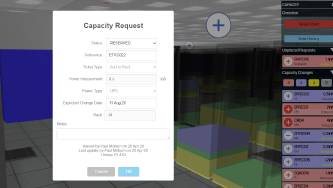 Intuitive Ticketing and Change Workflow
Tickets can be created, tracked and managed through an intuitive process. This provides a simple workflow process for central capacity and operations teams to view and plan key capacity changes.
Visualization and Reporting
With EkkoSoft Critical, data center teams, facilities managers and energy managers benefit from comprehensive capacity and power views and reports at a fraction of the cost of traditional BMS and DCIM solutions.
Connect with
Ekko

Net Global Partners

Internationally recognized consulting and knowledge base, universally trusted delivery solutions, world class regional support.
Talk to an
Ekko

Sense Expert

Get in touch with questions, sales enquiries or to arrange your free demonstration.