Disrupt traditional data gathering cost models with our IoT suite of sensors and flexible integration solutions.
Support your transition towards a 'fully-sensed' data center environment.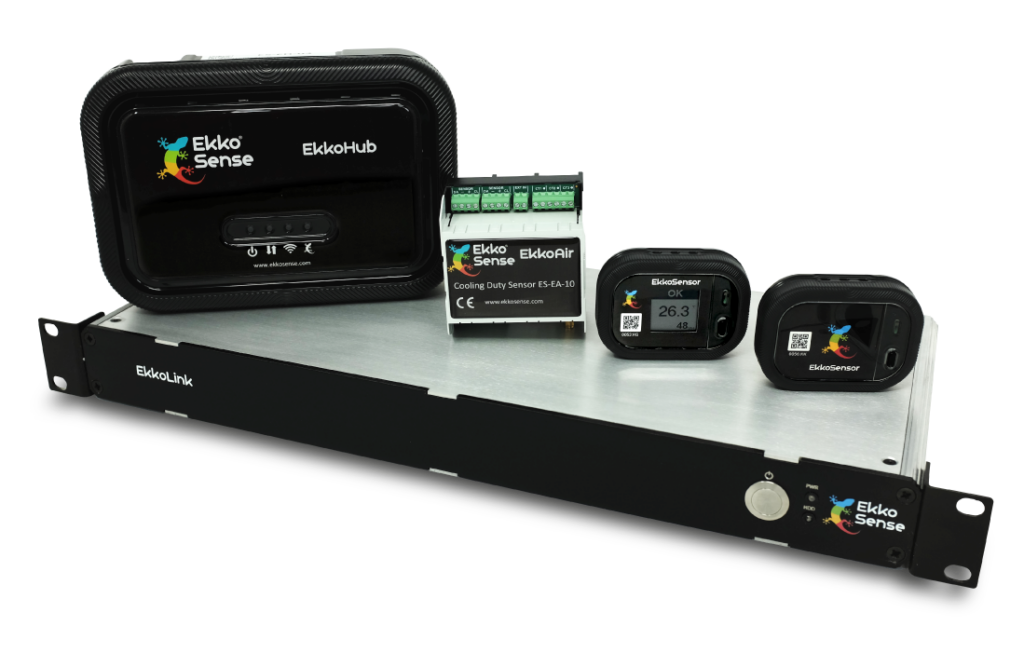 EkkoSense makes the real-time thermal management of your critical facilities a reality with the EkkoSense Critical Things® family of ultra-low cost, wireless sensors and flexible integration options.
To optimize data center performance, operations teams need to gather and visualize data at a granular level. The EkkoSoft Critical Things® family enables this, drawing on the latest low-cost wireless sensor technology and integration tools. This allows sensors to be deployed in higher numbers across the data center, enabling higher spatial resolution right down to rack-level – making true machine learning-based analytics and real-time thermal management of critical facilities a reality.
Secure 128-bit AES encryption
The EkkoSense Critical Things family ensures security with 128-bit AES encryption between EkkoSensors, EkkoHubs and EkkoLink hardware for secure connectivity with EkkoSoft Critical cloud-based software. Additionally, TLS is used to protect data on EkkoHub's wired interface.
EkkoSoft direct mode for Edge support
Enables the EkkoHub Wireless Data Receiver to connect directly with EkkoSoft Critical, making it an ideal monitoring and alarming solution for an organization's many smaller Edge sites such as single server rooms, cabins, containerized pods, hub sites and other equipment rooms.
Comprehensive integration capabilities for complete data center coverage
In addition to tracking data center cooling loads in real-time via our manufacturer-agnostic EkkoAir wireless cooling duty sensor, the EkkoLink data aggregator can retrieve data from other on-site third party devices and networks using Modbus, OBIX or SNMP connectivity.
Integration with existing 3rd party systems
The Critical Things® family is also able to access data from existing 3rd party systems such as BMS, EPMS and other logging platforms.

Designed for simple, rapid installation
EkkoSensors are self-contained, wireless and battery-powered for much simpler installation, while EkkoHub and EkkoLink hardware are also designed for easy install with a variety of mounting options. Our digital sensors don't require any calibration, making them a reliable source of machine learning data.

EkkoSensor Wireless Sensor
The world's first true Internet of Things-enabled family of wireless temperature and humidity sensors. EkkoSensors are self-contained, battery-powered and facilitate simple networking with predictable battery life and performance.

EkkoAir Wireless Cooling Duty Sensor
A manufacturer-agnostic sensor that provides real-time tracking of cooling duty loads in kWc for any CRAC/AHU unit. EkkoAir can be deployed rapidly, allowing data center teams to gain additional insight into thermal performance across both individual rooms as well as broader enterprise estates.

EkkoCT Wireless Current Measurement Sensor
A wireless current monitoring device that accepts up to three standard 333 millivolt output current transformers rated between 1A and 1,000A. This provides a rapid way of capturing power consumption details, and enables power monitoring to be implemented where the costs of full power metering were previously prohibitive.

EkkoHub Wireless Data Receiver
Collects and forwards data from up to 500 wireless EkkoSensors within a 20m radius. Multiple EkkoHubs can connect to an EkkoLink – which forwards data to the cloud-based EkkoSoft Critical over the WAN for visualization and analysis. Alternatively, an EkkoHub can connect directly to EkkoSoft critical to efficiently support Edge site monitoring.

EkkoLink Data Aggregator
Receives data from multiple EkkoHubs for secure transmission to EkkoSense's EkkoSoft Critical software in the cloud. In the event of a connectivity loss, EkkoLink buffers site data for later transfer to EkkoSoft Critical.
Connect with
Ekko

Net Global Partners

Internationally recognized consulting and knowledge base, universally trusted delivery solutions, world class regional support.
Talk to an
Ekko

Sense Expert

Get in touch with questions, sales enquiries or to arrange your free demonstration.