Arimax partners with EkkoSense to help Swiss data centers unlock significant cooling energy savings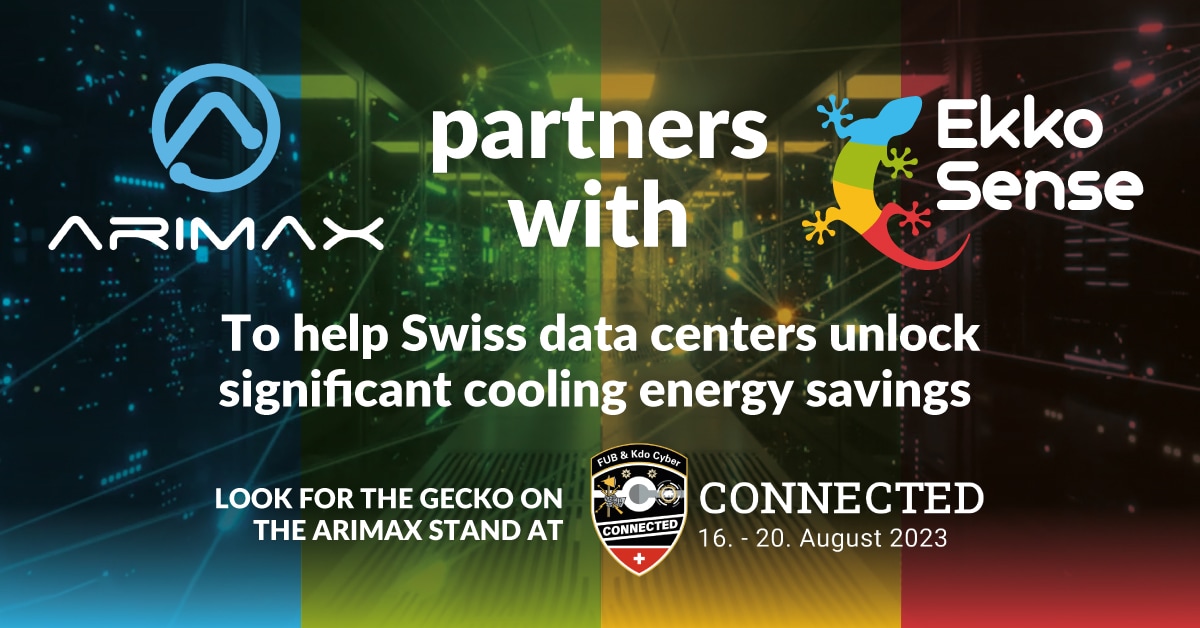 2nd Aug 2023 – Arimax Distribution AG, the Zurich-based data center solutions specialist, has added EkkoSense's AI-powered EkkoSoft Critical optimization software to its portfolio of data center power, cooling and infrastructure solutions. The EkkoSense solution supports new levels of granular thermal monitoring for data centers, removing thermal risk, cutting cooling energy costs, and delivering quantifiable carbon savings for ESG programmes. EkkoSense's granular energy usage reporting will also significantly simplify reporting for the upcoming EU Assessment Framework for Data Centers.
Arimax is acknowledged as one of Switzerland's leading data center solutions experts, and will deploy EkkoSense's 3D visualization and analytics software to help organizations optimize their data centers' thermal and energy performance. The Arimax team will demonstrate EkkoSense Critical in action at the Connected Show, 16-20 August at the Kloten-Bülach military training ground.
Ronny Schnuriger of Arimax said: "Arimax has a track record of successful integration and data center project delivery across the region, and we're excited to add the EkkoSense cooling optimization to our portfolio. The software enables data center operations teams to not only how see how their sites are performing from a power, cooling and capacity perspective, but also helps them to take informed decisions on how to improve performance. We believe that EkkoSoft Critical will deliver clear benefits for both existing and new Arimax clients."
Matthew Farnell, EMEA Director of Sales for EkkoSense added: "By using the 3D visualization and analytics software Arimax will enable data centre operations teams to remove thermal and power risk, minimize cooling energy usage and costs, and support ESG programmes through quantifiable carbon savings. It is great for EkkoSense to have such a solid partner covering Switzerland and the surrounding region."

###
Arimax Distribution AG
Arimax Distribution AG was founded in 1993 in Sihlbrugg, Switzerland. Today, Arimax is based in Dietikon and is a certified Swiss partner and value-added reseller for many leading data center manufacturers including Schneider-Electric, Vertiv, Avocent, Daxten, and Anord Mardix. Arimax supports customers all over the world with competent advice, procurement of hardware and software as well as specialist services in the areas of IT management and data centers. https://www.arimax.ch/
About EkkoSense
EkkoSense is an industry leader in the provision of advanced sensing technology, SaaS DCIM-class visualization & monitoring software and analytics solutions for critical facilities such as data centers. The company is committed to eliminating thermal risk and helping organizations to monitor, manage and maximise their data center performance. www.ekkosense.com Follow us on Twitter @ekkosenseUK.
Contacts:
Arimax
(+41 43 321 73 93) 
[email protected]
Cheryl Billson – PR for EkkoSense
+44 (0)7791 720460
[email protected]