Daisy Corporate Services unlocks annual Data Centre cooling energy savings of over £163k with EkkoSense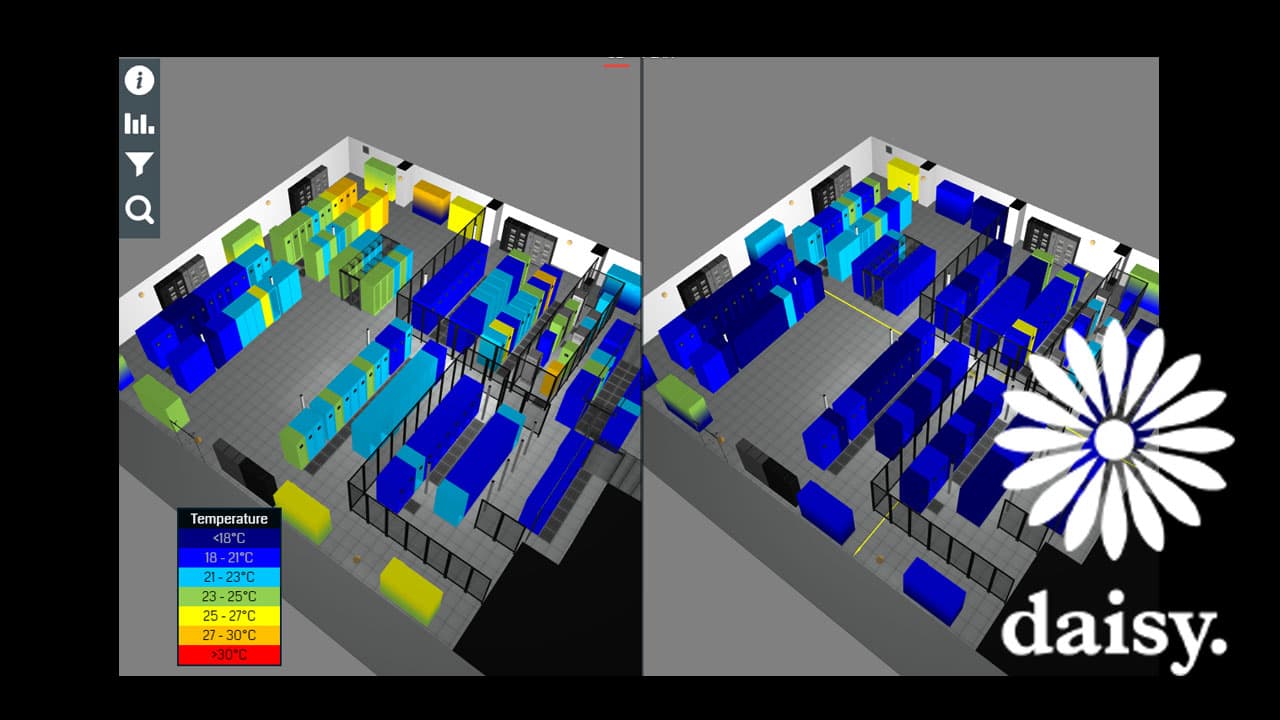 EkkoSoft Critical 3D software enables impressive savings and carbon reduction across 7 Daisy sites

20th February 2020: Data centre performance specialist EkkoSense is helping Daisy Corporate Services to unlock data centre cooling energy savings of over £163,000 a year through the deployment of its EkkoSoft Critical SaaS software and specialist optimisation skills. EkkoSoft Critical is now being used to help manage the cooling performance of seven Daisy data centre sites across the UK, and has also created a real-time platform for true live Capacity Planning.

Following the success of an initial project at two data centres where EkkoSense helped deliver some £115k of cooling energy savings in the first few months of a deployment, Daisy extended its engagement with EkkoSense to cover further primary data centres in Wapping, Aston and Romford. Again, the deployment of EkkoSoft Critical and EkkoSense's data centre optimisation service unlocked additional cooling energy efficiencies, adding a further £77,000 annual cost saving. Daisy has also now engaged EkkoSense to deploy its software-led thermal optimisation approach at its Reading and Birstall sites, as well as additional halls in the original Farnborough and Aston facilities. Collectively, EkkoSense has now helped Daisy to save £163,000 in annual data centre cooling energy costs – representing over 200,000 kW of electricity and delivering a significant carbon reduction for the business.

EkkoSoft Critical is a distinctive SaaS-based solution that combines granular IoT sensor data with the latest 3D visualisation techniques to make immersive real-time monitoring and planning of data centre power, cooling and space a reality.

Les Price, Head of Availability Services at Daisy said:
"While the initial brief was to look at energy savings in two of our data centres, we were delighted that EkkoSoft Critical also identified potential thermal risks from over- and under-cooling. We worked with EkkoSense's specialist data centre optimisation consultants to make immediate long-term changes to our cooling strategy to eradicate this risk – preventing potential outages resulting from thermal inefficiencies and, at the same time, benefitting our bottom line and reducing our carbon footprint.

"The success of this project has encouraged us to deploy EkkoSense performance optimisation more widely, and we're now seeing EkkoSoft Critical as a solution that not only positively impacts our energy usage and thermal risk reduction, but is also able to play an important role in the ongoing capacity management of our UK data centre estate," he continued.

"With EkkoSense Critical we're able to simplify performance management for data centre operational teams, providing them with far greater control over their power, cooling and space by using our powerful, intuitive tools," added EkkoSense CEO Dean Boyle. "It's great that Daisy Corporate Services has extended its investment in EkkoSoft Critical, and we look forward to working with the Daisy data centre team to support them in helping them secure further bottom line cooling energy savings as part of their broader commitment to achieving their energy targets."

Link to full case study here.


About Daisy Corporate Services:
Daisy Corporates Services is the UK's leading independent provider of secure IT, communications and cloud services. With a portfolio spanning Lines & Calls and Connectivity, right through to Unified Communications, Business Continuity and Cloud & Hosting, Daisy creates intelligent IT and communications solutions to help its customers in all industries to be more productive and successful and plays an integral role in keeping the UK's commercial and public sectors operational. www.daisygroup.com

About EkkoSense:
EkkoSense is an industry leader in the provision of advanced sensing technology, SaaS DCIM-class visualisation & monitoring software and analytics solutions for critical facilities such as data centers. The company is committed to eliminating thermal risk and helping organisations to monitor, manage and maximize their data center performance.
EkkoSense solutions are available directly, or through the company's expanding network of international partners across North and South America, Latin America, Europe, the Middle East and Asia Pacific.
---
www.ekkosense.com
Follow us on Twitter @ekkosenseUK
Press Contact: Cheryl Billson, Comma Communications – PR for EkkoSense,
+44 (0)7791 720460
[email protected]