EkkoSense updates help accelerate data center teams' ability to deliver on their corporate ESG requirements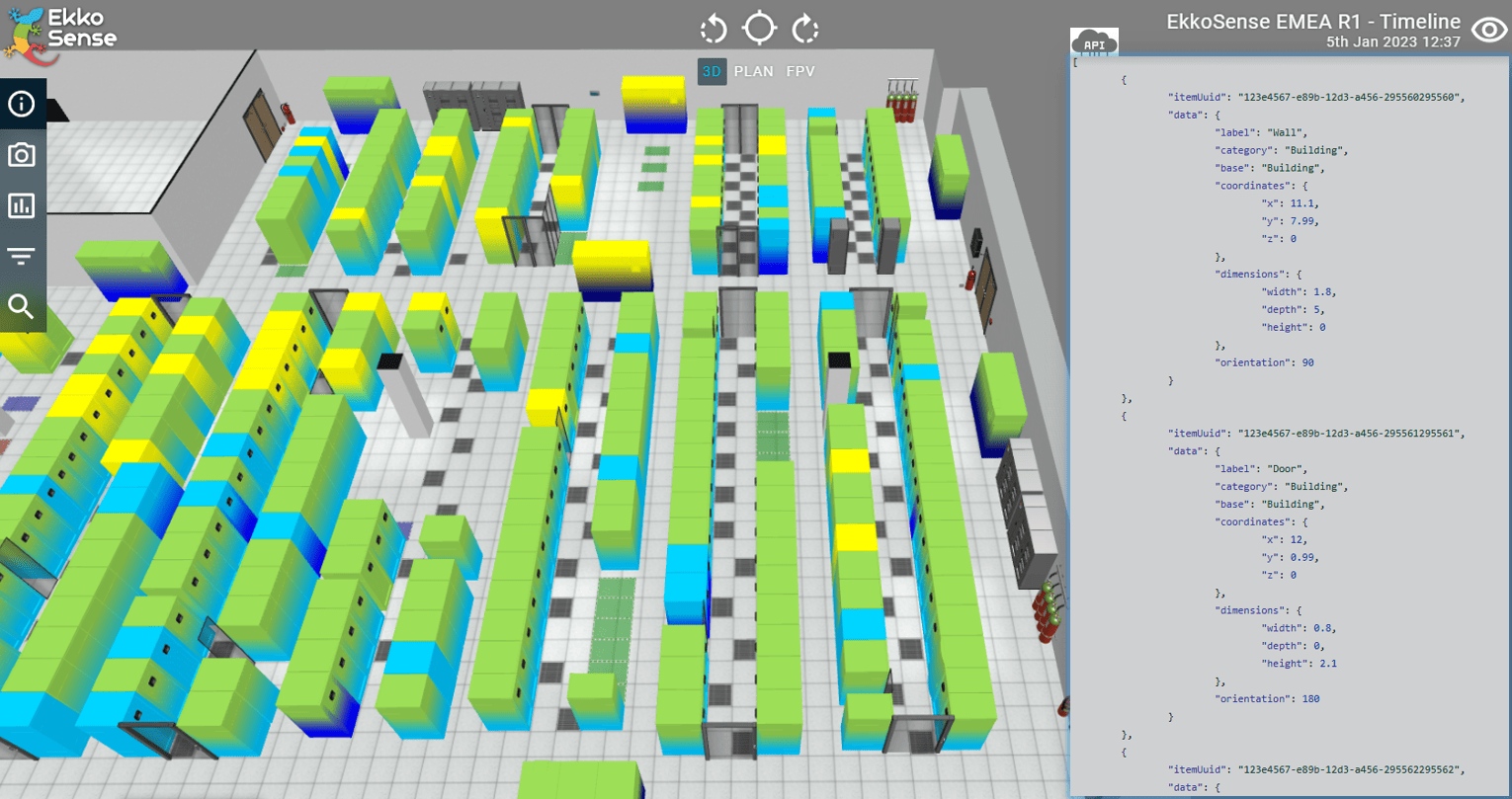 9th January 2023 – EkkoSense has announced the latest releases to its EkkoSoft Critical AI-powered data center optimization software solution, and Critical Things hardware portfolio.
EkkoSoft Critical introduces AI and machine learning into traditional data center optimization, with software that provides comprehensive 3D monitoring and visualization, AI-enabled evaluation and analytics, and capacity management support. For data center operators this combines to deliver lower thermal and power risks, resulting directly in data center cooling energy cost and carbon reductions that help deliver on their corporate ESG requirements.
This latest update focuses on enabling further integration and improving ease-of-use. Highlights include:
· An updated Editor mode for the Sensor Editor makes it even easier for partners to commission EkkoSense's low-cost Critical Thing wireless sensors and integrate them with existing Modbus, SNMP and BACnet-connected devices. Configuration is now simpler, while also ensuring 1-to-1 data integrity across the EkkoSoft Critical software platform
· BACnet integration within the EkkoSoft Critical software platform, enables EkkoSense to strengthen connectivity with the most widely-accepted protocol for building systems and control devices
· Extensions to the company's EkkoAir wireless cooling duty sensor to include Free Air monitoring, including percentage utilization of free air for combined systems. The latest EkkoAir update also introduces monitoring of chilled water supply and return temperatures, enabling any performance issues to be highlighted
· A new Public API allows high-level daily aggregate room metric temperature, humidity, compliance and power data to be extracted for use in third party DCIM dashboards or asset management platforms such as Assetspire, along with key metadata on cooling unit setpoints and other configuration details to assist in cooling anomaly detection
· Site & Room PUE charts – supporting longer-term analysis and optimization, EkkoSoft Critical now allows historical site and room PUE performance to be tracked at 15-minute and daily intervals for time periods of up to three years

"Very few performance optimization approaches can help data center teams to address increased workload throughput, risk reduction and improved sustainability at the same time," explained EkkoSense's Chief Product Officer, Paul Milburn. "However, with EkkoSoft Critical's unique, software-driven AI-enabled thermal optimization capabilities that's exactly what we're doing.
"This latest release strengthens our ability not just to remove thermal and power risks for data center operators, but also helps them to secure quantifiable reductions in their data center cooling energy usage that unlock immediate carbon savings for corporate ESG programmes," Paul continues.
EkkoSoft Critical software delivers quantifiable reductions in cooling energy usage, helping data centers to reduce energy consumption at a time when electricity prices have never been higher. With EkkoSoft Critical, EkkoSense delivers a compelling business case, enabling true real-time M&E Capacity Planning for power, cooling and space at a fraction of the cost of more expensive and complex DCIM solutions. With its light-touch, software-based approach, EkkoSense also helps data center teams to secure immediate benefits, with its light-touch deployment and non-invasive nature contributing directly to carbon reduction targets. Video.
About EkkoSense
EkkoSense is an industry leader in the provision of advanced sensing technology, SaaS DCIM-class visualization & monitoring software and analytics solutions for critical facilities such as data centers. The company is committed to eliminating thermal risk and helping organizations to monitor, manage and maximise their data center performance. www.ekkosense.com Follow us on Twitter @ekkosenseUK
Press Contacts:
Cheryl Billson
PR for EkkoSense
+44 (0)7791 720460
[email protected]