Webinar invitation – EkkoSoft Critical 8.0 unveiled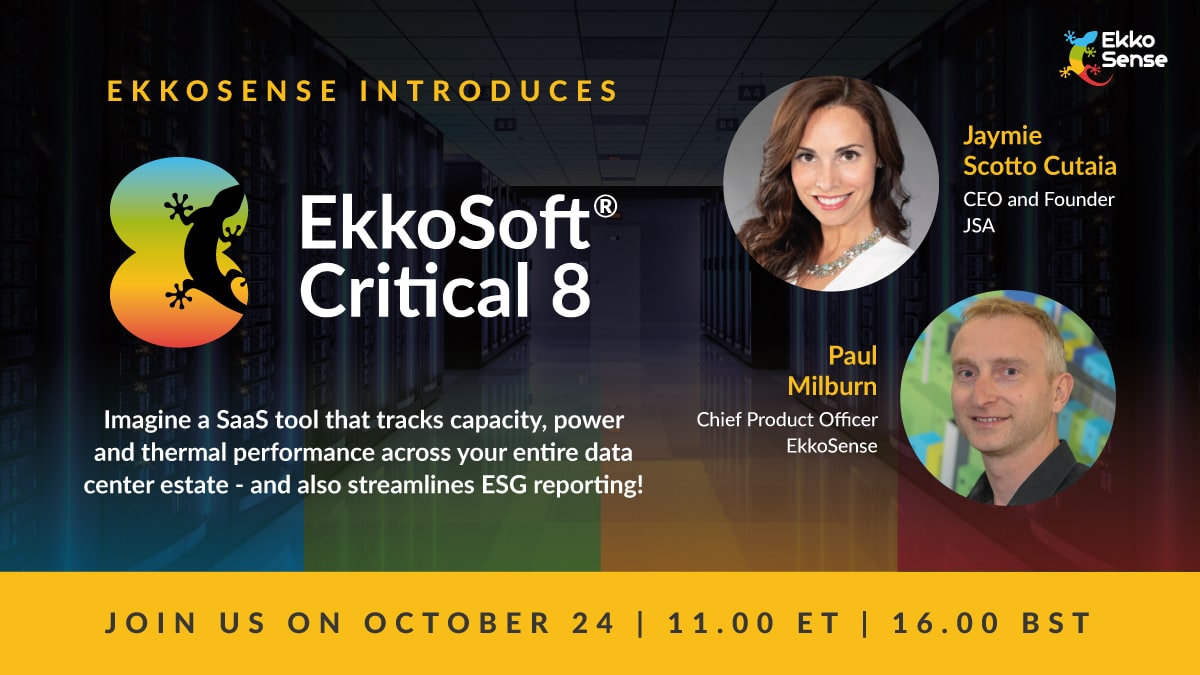 Data center operators: Do you need to up your game on ESG reporting, fast? Join us on October 24th for a LinkedIn Live event hosted by Jaymie Scotto Cutaia, CEO and founder of JSA, and Paul Milburn, Chief Product Officer. Discover how EkkoSense is revolutionizing data center optimization with its comprehensive Estate dashboards and compliance-ready ESG reporting.
Register now to secure your spot or sign up to receive the recording for on-demand viewing. Don't miss this opportunity to stay at the forefront of data center technology! https://www.linkedin.com/events/7112870955344949248/about/ 
Blog by Paul Milburn…
The data center industry is experiencing rapid changes, reshaping the way data centers operate. As reliance on digital technology grows, we need smarter and more sustainable data center management solutions. 
As the focus on environmental, social, and governance (ESG) reporting standards intensifies globally and in the U.S., operators may (rightly!) worry about the time and resources required to comply with these regulations.
Meeting the Challenge of Evolving ESG Standards
The good news is that UK-based EkkoSense, with its extensive experience helping companies navigate European regulations around sustainability, is ready to bring this expertise across the pond. Data centers operating in the European Union have been tracking their energy efficiency since May 2023, but the stakes are rising. —The EU's upcoming Corporate Sustainability Reporting Directive (CSRD), the new EU legislation that requires certain companies to produce regular reports on their environmental and social impact activities, requires data collection starting Jan. 1, 2024.
In fact, major changes in regulation and compliance over the next six months — initially in Europe, but increasingly around the world — are shifting ESG from a largely Corporate & Social Responsibility issue to a core compliance challenge. Sustainability directors aren't the only ones involved now; the entire C-suite and board, as well as any investors, have a sharp eye on this area. 
Relying on PUE alone will no longer cut it. While PUE still has an important role to play, a series of metrics are now needed to provide a clear, well-rounded view of data center performance, including Cooling Efficiency Ratio (CER), Carbon Usage Effectiveness measure (CUE), Water Usage Effectiveness (WUE), Energy Reuse Factor (ERF) and Renewable Energy Factor (REF).
A Global Focus
It's not just European governments that are cracking down on ESG. 
Amazon, for example, is updating its supply chain standards to require its suppliers to report their carbon emissions data and set clear emissions reductions goals. When it comes to selecting partners, Amazon is choosing suppliers who can help the company achieve its carbon reduction goals.
The US Security and Exchange Commission (SEC) has set a deadline for mandatory ESG reporting in 2024. This means that public companies will be required to disclose their environmental, social, and governance practices. For many companies, these reports will be required as soon as the 2024 fiscal year. Additionally, the International Sustainability Standards Board is considering the enforcement of compulsory global sustainability reporting regulations for companies, beginning in fiscal year 2024. These are clear indications of a potential shift towards standardized ESG reporting on a global scale.
The ESG Game Changer
EkkoSense knows first-hand how the evolving directives demand fully auditable, standards-based ESG reporting, leaving no room for error. Any deviation from correct data collection and reporting methods is likely to be uncovered by an audit. The bar for accuracy has been raised significantly, and it's clear that most data center operators aren't ready for the next wave of ESG regulations. Our research (pulled from tracking data inside live facilities) suggests that only 5% of M&E teams currently monitor and report on their power and equipment temperatures on a rack-by-rack basis.
This level of ESG reporting places a considerable operational and resource burden on data center operators. Legacy Data Center Infrastructure Management (DCIM) and Building Management Systems (BMS) often lack suitable reporting features, adding complexity to the process, especially when dealing with multiple rooms and sites.
EkkoSense has the solution. We've embraced the challenge of leading this transformation, and our journey of innovation has reached a remarkable milestone with the unveiling of EkkoSoft Critical 8.0. This groundbreaking release is a testament to our unwavering dedication to redefining data center optimization and sustainability. EkkoSoft Critical 8.0 provides real-time granular performance data you need, along with powerful analysis and reporting capabilities. Our tool is designed to make ESG reporting more accessible, efficient and accurate.
Join Us for "EkkoSoft 8.0 Unveiled"
To learn more, I cordially invite you to join our upcoming webinar, "EkkoSoft 8.0 Unveiled: Discover How New AI-Powered Dashboards Will Help You Meet ESG Reporting Deadlines."
In this exclusive LinkedIn Live event scheduled for October 24th at 11 AM EST, I, along with host Jaymie Scotto Cutaia, CEO and Founder of JSA, will offer firsthand insights into how EkkoSense is reshaping data center optimization through its comprehensive estate dashboards and compliance-ready ESG reporting.
Together, let's pave the way for smarter, more sustainable data center management.
Alternatively read Matthew Farnell's blog "Is your team ready for next January's data center ESG reporting requirements?" or download our free ebook "Corporate Sustainability for data centres – are you ready?"