Most intuitive platform for data centre Capacity Management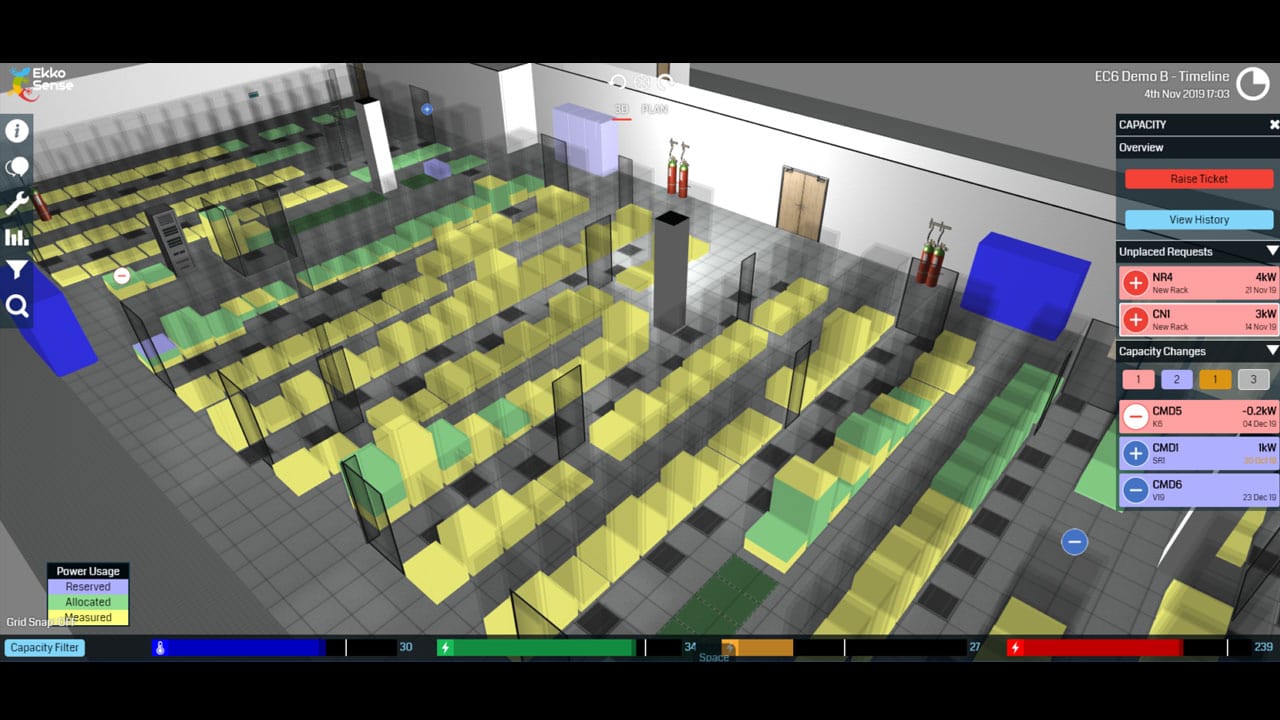 "Unlike the complex reporting functionality offered by expensive legacy DCIM systems, EkkoSoft Critical enables true live Capacity Planning"
9th March 2020: Data centre performance specialist EkkoSense has introduced the most intuitive management platform currently available for data centre power, cooling and space capacity management. Unlike expensive legacy DCIM systems that typically offer limited M&E capacity reporting, the company's EkkoSoft Critical SaaS software now provides data centre operators with true live capacity planning control.
Key features of the new 3D Capacity Planning capability in EkkoSoft Critical include:
Comprehensive Capacity Planning – using EkkoSoft Critical's 3D live visualisation view to reserve data centre space, power and cooling for future IT projects
Intuitive Ticketing and Change Workflow – simplifying activities for data centre operations teams by supporting the addition of any new rack, adding capacity to existing racks, removing capacity from racks, and removing existing racks entirely
Power Over-Allocation Identification – helping identify where current data centre racks might have 'locked-in' power capacity that's not currently being utilised
Site-wide Capacity Configuration – ensuring that capacity decisions filter across all rooms, utilising site-wide efficiency metrics and environmental profiles
Full Estate-wide or Room-by-Room Live 3D Views – providing intuitive views of an organisation's current datacentre space utilisation, power usage and cooling capacity performance – both at an individual room-by-room basis or across a whole estate
"It's hardly surprising that today's Facilities and Capacity Managers are increasingly frustrated with unwieldy spreadsheets and complex DCIM systems that they currently have to use to manage changes to their data centre estate. Now, with the introduction of EkkoSoft Critical's 3D Capacity Planning functionality, we're helping them to take control of their estate by making the real-time monitoring of datacentre power, cooling and space a reality,"
explained EkkoSense's CEO Dean Boyle.
"Data centre teams can already rapidly model their environment with our 3D room builder and quickly gather thermal insights with intuitive visualisations . By taking advantage of our new Capacity Planning functionality they can take things to the next level, allowing them to run their data centres much leaner – and at a fraction of the cost of legacy DCIM approaches."
EkkoSoft Critical is a distinctive SaaS-based solution that combines granular IoT sensor data with the latest 3D visualisation techniques to make immersive real-time monitoring and planning of data centre power, cooling and space a reality. EkkoSoft Critical is simple to deploy and easy-to-use, providing a platform for 24% average data centre cooling energy savings, securing increased capacity and ensuring 100% rack-level ASHRAE thermal compliance – signfiicantly reducing data centre risk.
EkkoSense solutions are available directly, or through the company's expanding network of international partners across the US, Europe and Asia Pacific. Visit here for a demonstration of the EkkoSoft Critical platform.
About EkkoSense:
EkkoSense is an industry leader in the provision of advanced sensing technology, SaaS DCIM-class visualisation & monitoring software and analytics solutions for critical facilities such as data centers. The company is committed to eliminating thermal risk and helping organisations to monitor, manage and maximize their data center performance.
EkkoSense solutions are available directly, or through the company's expanding network of international partners across North and South America, Latin America, Europe, the Middle East and Asia Pacific.
---
www.ekkosense.com
Follow us on Twitter @ekkosenseUK
Press Contact: Cheryl Billson, Comma Communications – PR for EkkoSense,
+44 (0)7791 720460
[email protected]