New fully-integrated thermal, cooling and power reporting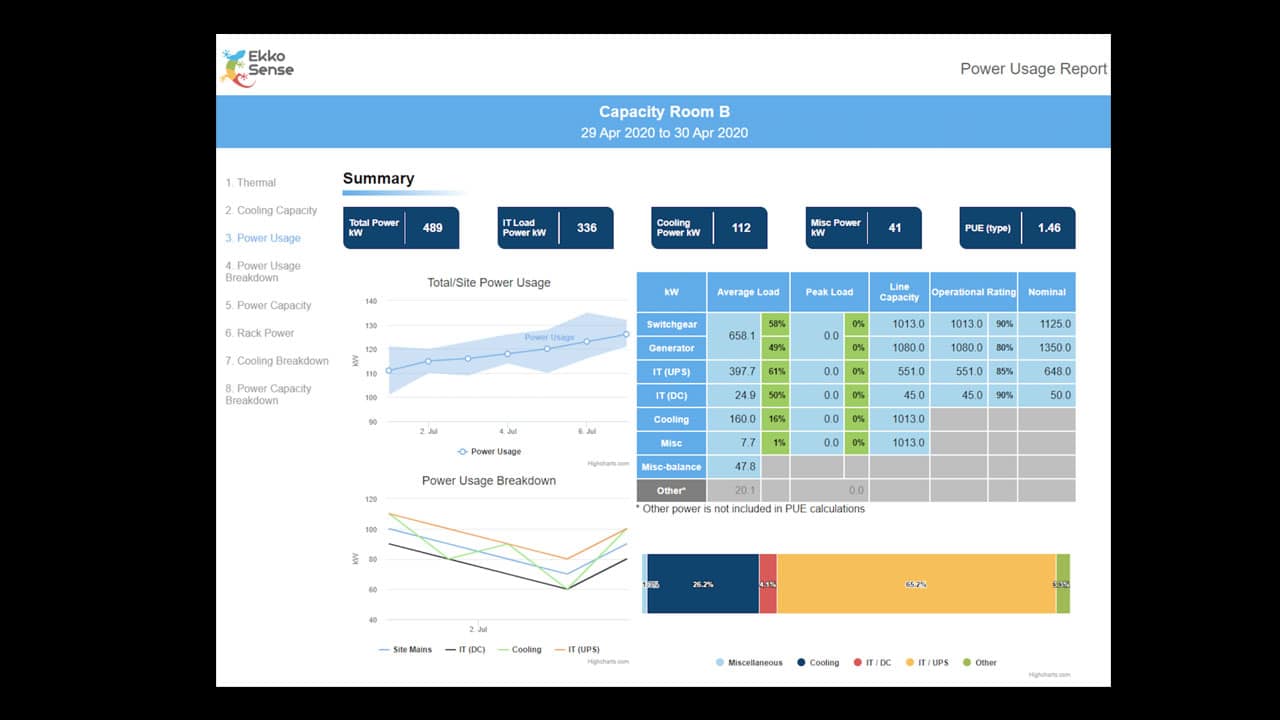 25th June 2020: EkkoSense has added powerful new Reporting capabilities with the introduction of its latest version of EkkoSoft Critical – the market's most intuitive and easy-to-use M&E platform.
Key new features include a Rack Performance Report that provides thermal and power information for selected groups of racks within a data centre – making it an ideal reporting tool for Co-Lo customers with SLAs or reporting requirements for their customers. Additionally, EkkoSoft Critical's new Cooling Breakdown Report provides more detailed information on the performance metrics associated with primary Air Handling Units within the data centre, while a new Power Capacity Breakdown Report indicates current and historical peak power consumption and site performance at key times.
"At EkkoSense we're determined to make our EkkoSoft Critical M&E platform as easy as possible for our data centre customers to use. Reporting is a key part of this process, where we provide customers with rapid access to the thermal, cooling and power information they need to make informed decisions about their data centre operation," explained EkkoSense's CEO Dean Boyle. "With our latest 6.1 release of EkkoSoft Critical we're providing a suite of powerful new Thermal, Cooling and Power reports that will give customers the early insight they need to ensure their data centres not only remain optimised, but also deliver key benefits in terms of 10-30% cooling energy savings, the identification and release of stranded cooling and power capacity, as well as the 100% removal of thermal risk."
EkkoSoft Critical 6.1's Reporting Suite includes the following comprehensive reports:
Thermal Report – provides an overview of thermal performance and compliance across the data centre for all monitored racks. Comparison between two dates enables summarised changes in environmental conditions over time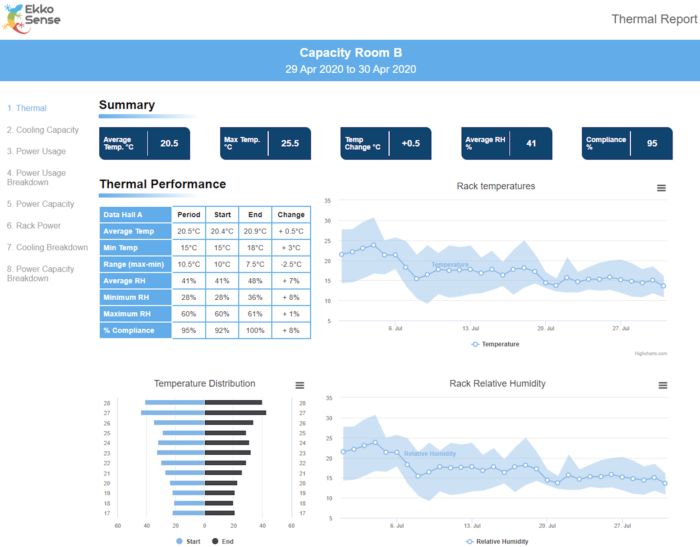 Data centre performance specialist EkkoSense has added powerful new
Reporting capabilities with the introduction of its latest version of
EkkoSoft Critical – the market's most intuitive and easy-to-use M&E
platform.

Rack Performance Report – allows both thermal and power information to be summarised for selected groups of racks, making it particularly relevant for Co-Lo customers with SLAs or specific customer reporting requirements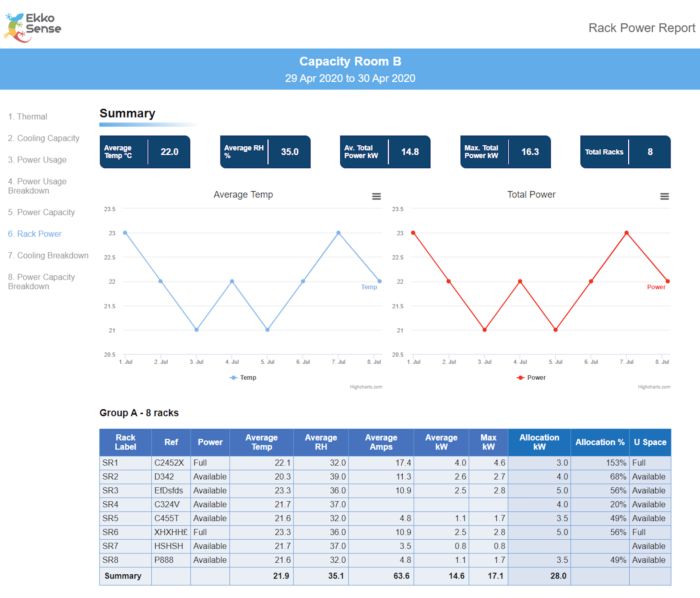 Cooling Capacity – indicates both the existing capacity and performance status of all a data centre's primary Air Handling Units, while an Operational Capacity feature shows full DC capacity with redundancy taken into account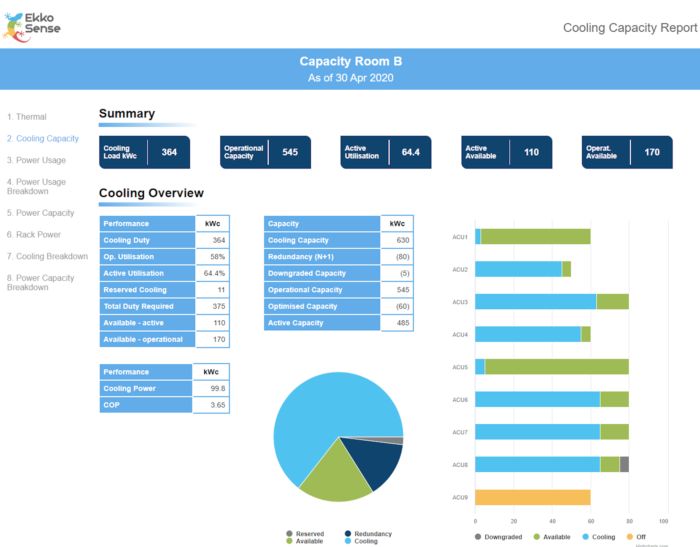 Cooling Performance Breakdown – details primary AHU performance, with comparison between two timeline dates for the cooling loads of each AHU to summarise changes over time, as well as providing an overall cooling load chart for all AHUs combined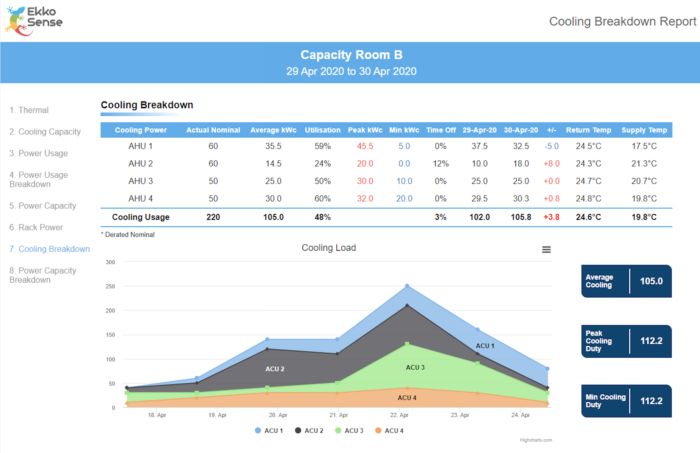 Power Usage Report – shows a breakdown for Site Power, IT (AC) Power, IT (DC) Power and Cooling Power at both room or site levels, with average, peak and minimum values shown for each critical metering point for the duration of the period selected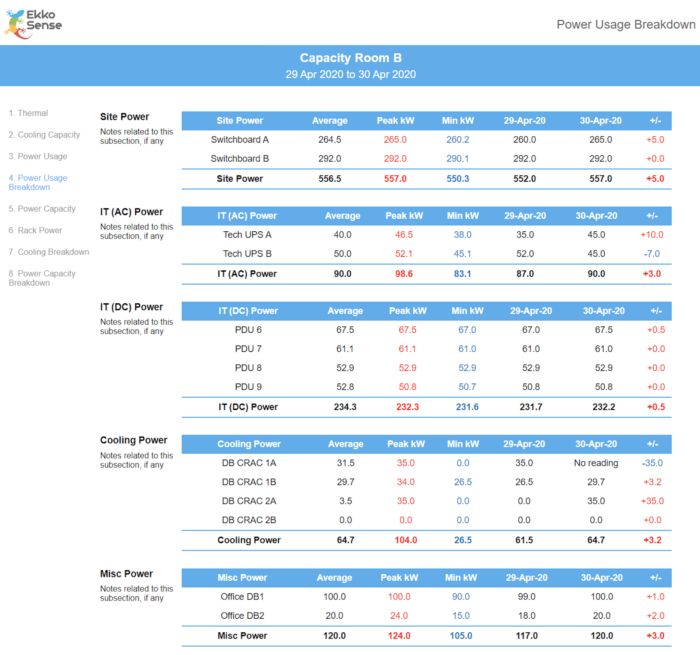 Power Capacity Overview –provides a view of data centre power capacity including existing and future capacity changes across site mains and AC and DC IT power systems. Charts indicate measured and allocated capacity for each group, with future capacity changes included as reserved power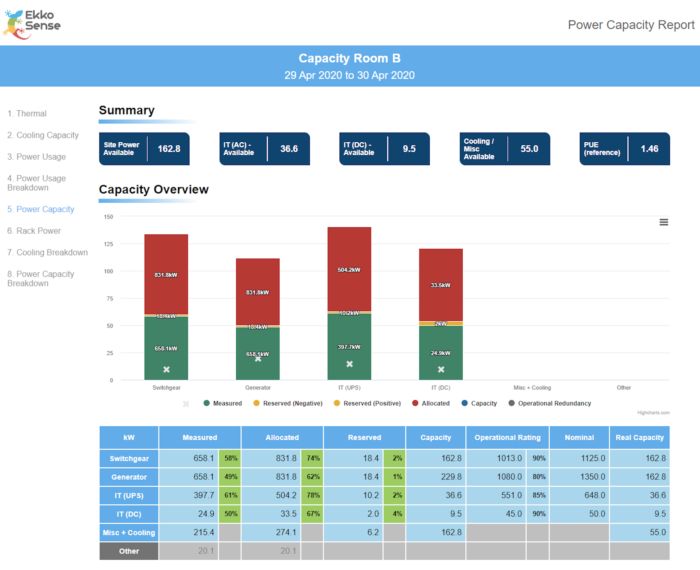 Power Capacity Breakdown – offers a more detailed breakdown of peak power consumption observed over four key time periods: Yesterday, last 30 days, last 3 months and last 15 months. The report also features individual IT system capacity breakdowns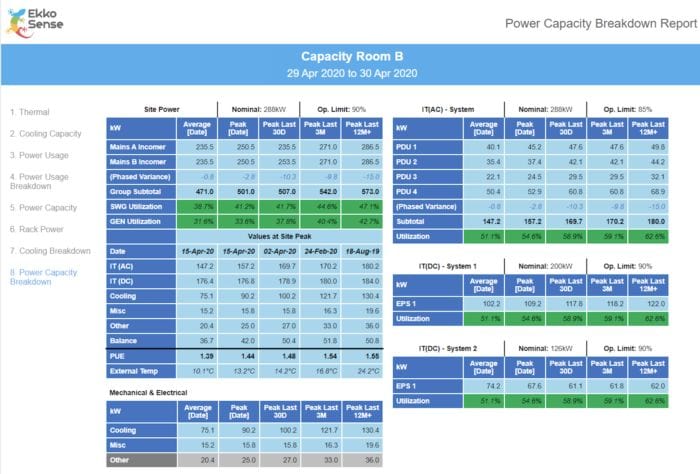 EkkoSense's EkkoSoft Critical SaaS software combines real-time
monitoring and 3D visualisations for data centre thermal, cooling and
power performance with powerful machine learning and real-time analytics
capabilities. The solution's practical M&E capacity management and
easy-to-understand reporting gives access to software-driven insights
that help data centre teams to secure tangible operational savings.
EkkoSense solutions are available directly, or through the company's expanding network of international partners across North and South America, Latin America, Europe, the Middle East and Asia Pacific.
www.ekkosense.com
Follow us on Twitter @ekkosenseUK



Press Contact: Cheryl Billson, Comma Communications – PR for EkkoSense,
+44 (0)7791 720460
[email protected]