EkkoSense Cooling Advisor wins Data Centre Cooling Product of the Year Award!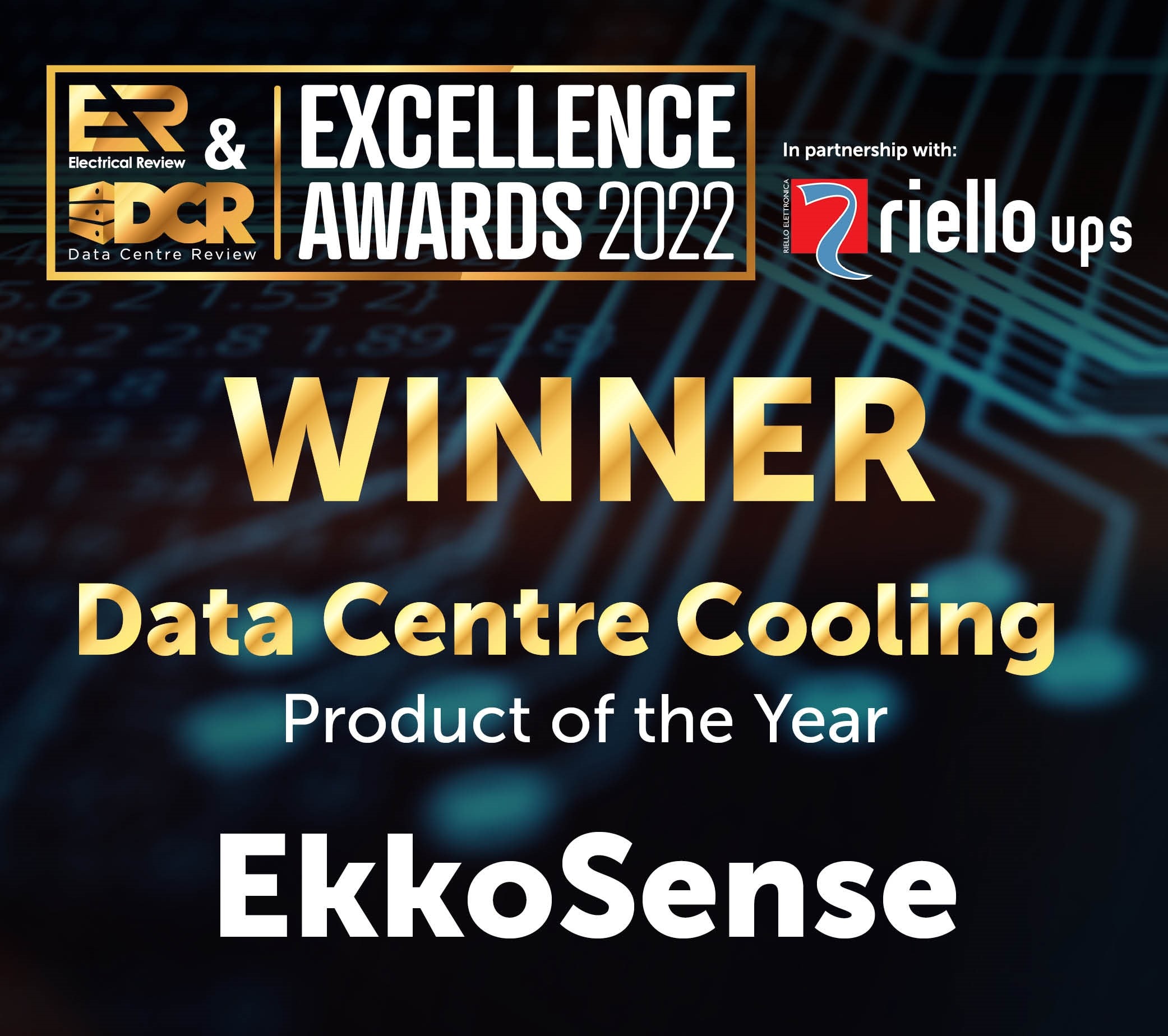 The whole EkkoSense team is over the moon that we won the Data Centre Cooling – Product of the Year Award 2022 for our Cooling Advisor solution. We believe that Cooling Advisor is a transformative innovation for our industry as it advises data center teams on exactly what they need to do to make their facilities more efficient – in contrast to other tools that simply create reports on what the problems might be.
It sounds obvious, but there really isn't anything else like it on the market – so it's great that the judges at the Data Centre Review and Electrical Engineering Excellence Awards recognised this at the recent finals night.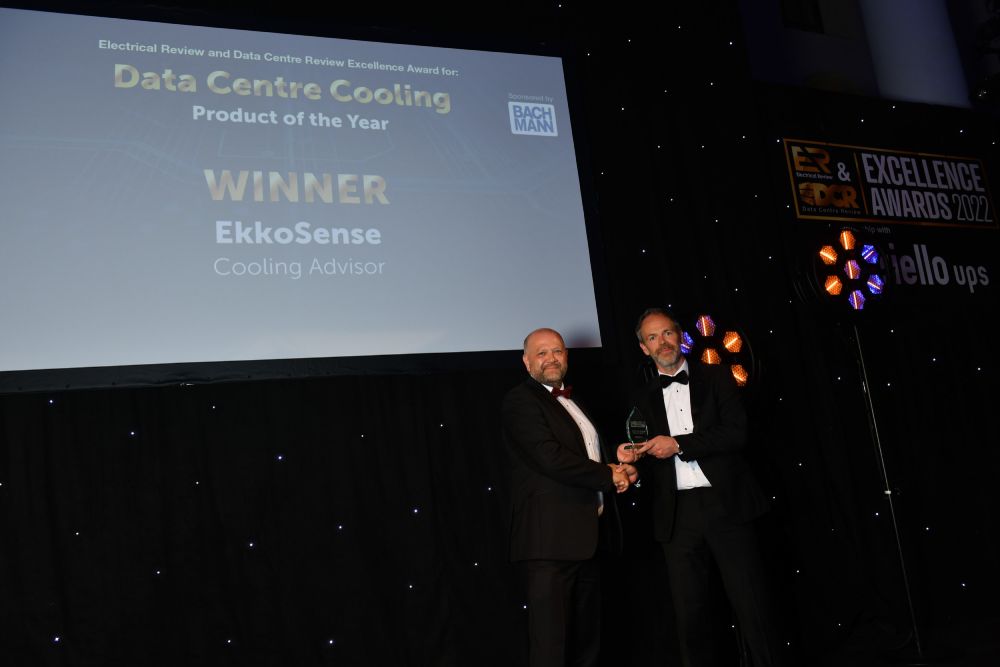 What is Cooling Advisor?
Our marketing tagline for Cooling Advisor is "The industry's first fully embedded AI-driven cooling advisory tool. It's just like having your own in-house optimization consultant – then some!" Short video here
So, it isn't just about having the intelligence of what is happening in your data centre – where you are over- or under-cooling for example. Cooling Advisor takes it a step further by equipping your in-house team with clear recommendations of the next best actions you need to take on your optimization journey. And because optimization is an ongoing process, Cooling Advisor keeps on learning and keeps on providing new recommendations to enable continuous improvement.
Because of this, operations teams get to keep their critical facilities fully optimized from a cooling, power, capacity and thermal risk perspective, with Cooling Advisor's powerful machine learning and AI technology providing valuable ongoing proactive advice. This helps facilities managers, energy managers and data center operations teams to ensure that performance across their critical facilities stays fully optimized.
Key Cooling Advisor features include:
· Clear Guidance on Cooling Adjustments
Thanks to EkkoSoft Critical's round-the-clock monitoring of temperatures, Cooling Advisor can offer focused guidance for adjustments to cooling unit setpoints, cooling unit standby, cooling unit fan speed adjustments and better floor grille layouts
· Full Risk Mitigation and Governance
Cooling Advisor ensures mitigation of risk by defining clear steps, providing obvious back-out mechanisms and offering clear logging of all user inputs and engagements within Cooling Advisor
· Streamlined Optimization Process
Key features here include the use of tasklists to group related tasks together, the ability to flag and unflag items that cannot be implemented in a specific site, as well as visible countdown timers to prevent potentially overlapping changes prior to confirmed optimization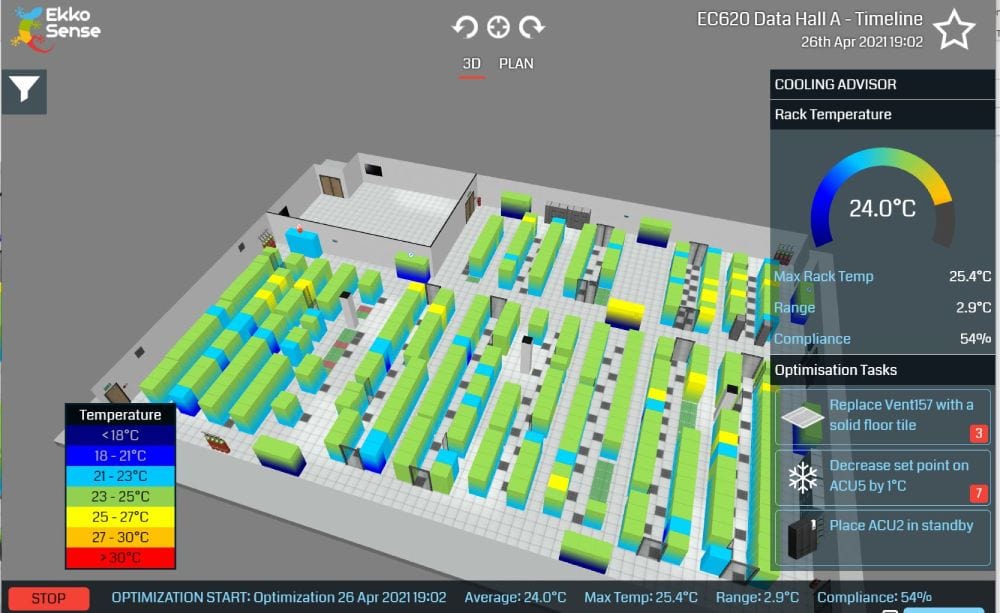 The award was given in recognition of our unique Cooling Advisor functionality, but it also represents further industry recognition for our entire market proposition and the growing reputation that EkkoSense has in the global M&E space where we operate. Again, this is further evidenced by many of the industry's largest players now reaching out to EkkoSense to investigate partnership and integration options. Congratulations to the entire EkkoSense team!
Interested in learning more about Cooling Advisor? Please contact me directly or book a demo here