Dubai-based Site and Power DK announces new partnership with EkkoSense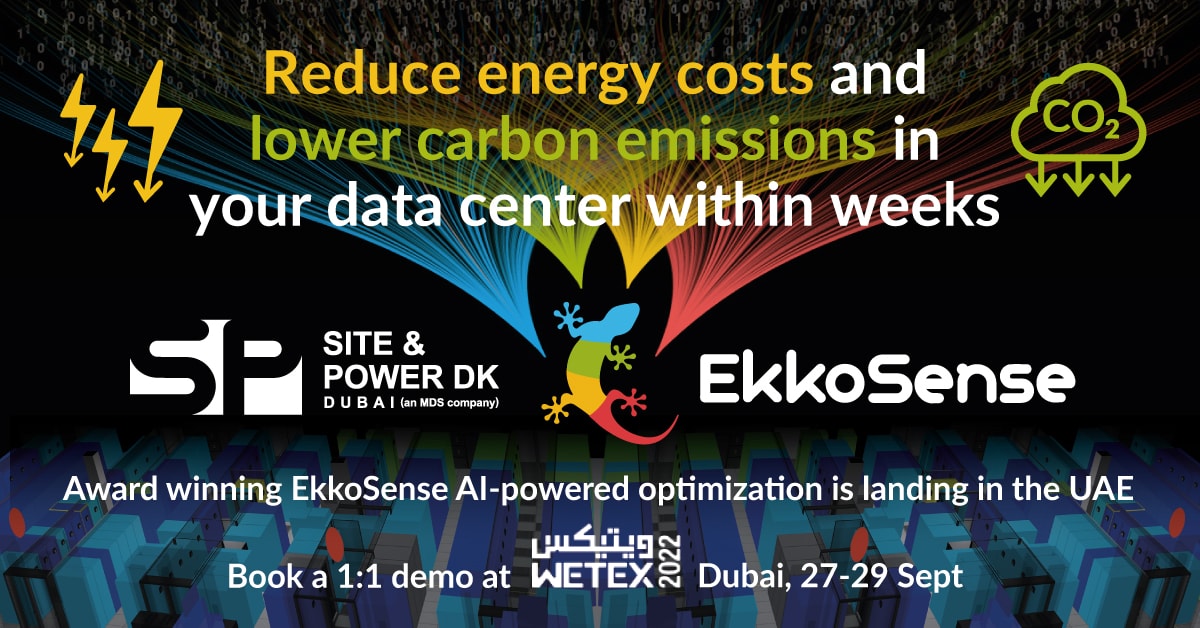 EkkoSoft Critical enables data centers to cut cooling costs by
30% average within weeks – while also unlocking
quantifiable carbon savings
–       Wetex, Dubai World Trade Centre, Electricity & Energy Hall, 27-29 September – book 1:1 demo here
– Dubai-based Site and Power DK announces new partnership with EkkoSense

23rd September 2022 – EkkoSense, the leading provider of AI-enabled data center performance optimization software, has appointed UAE-based Site and Power DK Ltd – part of the MIDIS group, as its in-region UAE sales and implementation partner. This is the first time that EkkoSense's innovative EkkoSoft Critical data center optimization software will be available locally, and Site and Power DK will work with organizations across the region to help reduce data center cooling energy by 30% average.

Commenting on the partnership, Mohamad Al Hajjar of Site and Power DK said: "EkkoSoft Critical is the most intelligent, intuitive and immersive AI-driven self-optimization software tool for your data center. When we first saw the software in action, we knew immediately that it could make a huge difference for organizations across our region – particularly those who want to reduce data center cooling usage and deliver energy savings as part of corporate ESG commitments. We're really pleased to be the first partner in region, and look forward to a long and successful co-operation."
Matthew Farnell, EkkoSense's Director of Sales for EMEA, who will be attending at Wetex with Site and Power DK – showcasing the EkkoSoft Critical software, added: "data center operators are under pressure to cut energy usage and deliver carbon savings – despite still being asked to support escalating digital workloads. That's where EkkoSense can help. Our EkkoSoft Critical software gathers data at a much more granular level and AI analytics identify where specific optimization actions are required.
"We're looking forward to working closely with Site and Power DK to help local customers deliver critical cooling energy savings that translate directly into quantifiable carbon savings. And because we offer a SaaS solution, there are no expensive upfront costs – meaning EkkoSense users benefit from results in weeks and a rapid ROI. Wetex attendees will be able to see EkkoSoft Critical in action on the Site and Power DK stand, and there's a great introductory video where people can learn more here."
Site and Power DK is part of the MIDIS Group – nominated by IDC as the number one IT service company in UAE for many consecutive years. With its head office in Abu Dhabi and offices in Dubai, Site and Power is ideally placed to support data centers across the UAE region as they unlock EkkoSoft Critical's proven benefits. The announcement continues EkkoSense's expansion of its global partner network.
EkkoSense's EkkoSoft Critical software delivers an average 30% cooling energy saving, helping data centers to reduce energy consumption at a time when electricity prices have never been higher. With EkkoSoft Critical, EkkoSense delivers a compelling business case, enabling true real-time M&E Capacity Planning for power, cooling and space at a fraction of the cost of more expensive and complex DCIM solutions. With its light-touch, software-based approach, EkkoSense also helps data center teams to secure immediate benefits, with its light-touch deployment and non-invasive nature contributing directly to carbon reduction targets. Video.
###
About Site and Power DK
Site & Power DK has been operating in the UAE since 1981. SDK specializes in Turnkey Data Center Solution and cloud infrastructure, as well as Electromechanical projects for sensitive high technology equipment. Our Data Center Infrastructure Specialists have skills that range from consultancy and design to final implementation and training. Facility Management and services include consultancy, design, supply, installation and maintenance with a team that has an engineering ratio of 90% with customer satisfaction as its main objective. For Power projects, we supply, install and maintain diesel generators for standby and continuous operation, as well as DC systems for various applications. We also provide generators on a rental basis.
About EkkoSense
EkkoSense is an industry leader in the provision of advanced sensing technology, SaaS DCIM-class visualization & monitoring software and analytics solutions for critical facilities such as data centers. The company is committed to eliminating thermal risk and helping organizations to monitor, manage and maximise their data center performance. www.ekkosense.com  Follow us on Twitter @ekkosenseUK.
Contacts:
Mohamad Hajjar
Business Unit Manager
Site & Power DK – Dubai Branch
+971 4 4293535
[email protected]
Cheryl Billson
PR for EkkoSense
+44 (0)7791 720460
[email protected]