EkkoSense and Packet Power Announce Technology Integration Partnership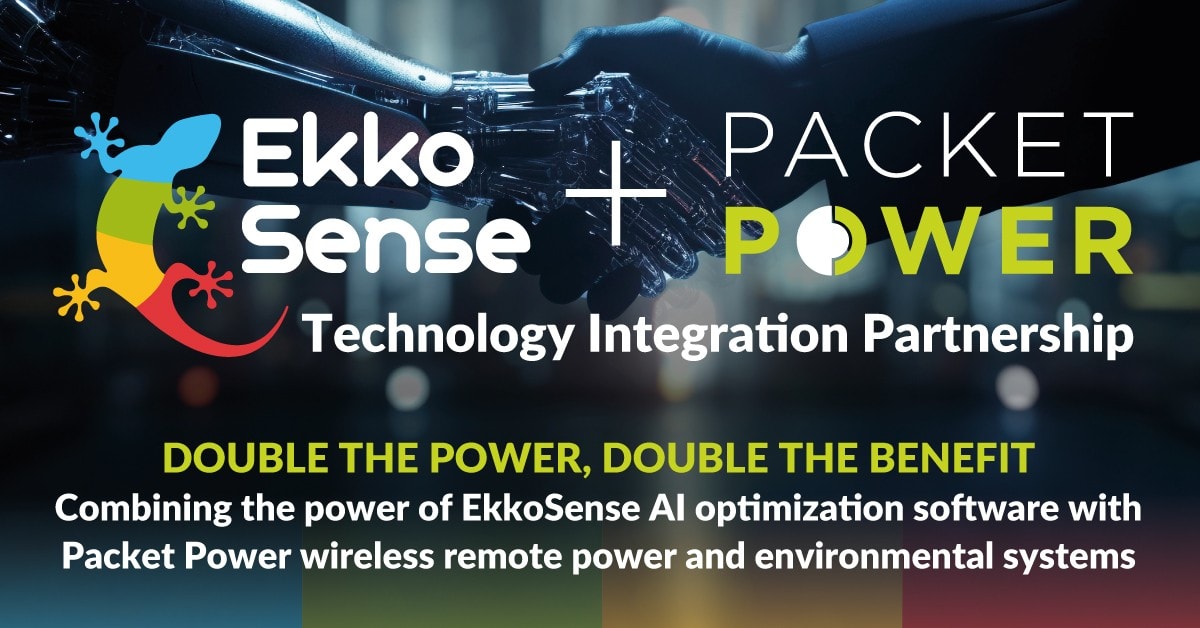 16th August 2023 – EkkoSense, a global leader in the provision of AI-driven data center performance optimization software, has announced a Technology Integration Partnership with Packet Power – developer and manufacturer of industry-leading wireless power and environmental monitoring solutions.
The partnership will provide Packet Power customers with access to the award-winning EkkoSoft Critical data center optimization software. This will enable operations teams to utilize EkkoSense's unique embedded Cooling Advisor AI tool to ensure their data center's thermal performance stays optimized.

EkkoSense customers will be able to take advantage of Packet Power's full range of easy to install, secure wireless monitoring solutions to help them precisely measure energy usage data and environmental factors. Packet Power's suite of solutions enable critical facilities managers to reduce the risk of interruption or shutdown by providing real-time measurement and custom alert systems. Power monitoring through Packet Power facilitates more effective capacity planning, driving higher utilization rates and ROI for existing data center assets. For colocation providers, Packet Power's monitoring solutions empower data center owners to accurately measure and allocate energy costs across customers. Further, Packet Power's wireless sensors will provide valuable additional inputs into EkkoSoft Critical's intuitive, real-time M&E Capacity Planning and Power Management functionality.

"At Packet Power, we are focused on making it as easy as possible for critical facilities managers to get the information they need to make optimal decisions, lower costs, avoid outages and improve operational effectiveness. Partnering with EkkoSense gives us the ability to deliver a broader range of solutions to help our customers operate more efficiently. Our partnership will give our customers access to EkkoSense's light-touch, AI-enabled thermal optimization software to optimize cooling of their operations," commented Packet Power's CEO, Nate Nomeland. "Conversely, Packet Power can now support EkkoSense customers looking to take advantage of our broad range of wireless power and environmental monitoring solutions that cover all levels of the power hierarchy."

"Partnering with Packet Power makes sense for EkkoSense, as it not only provides a great opportunity to introduce EkkoSoft Critical and Cooling Advisor to an extended global audience, but also broadens the range of monitoring options available to our customers," added EkkoSense's CEO, Dean Boyle. "In terms of integration, we're already communicating via SNMP and Modbus, and customers can share their critical power and environmental data with both EkkoSoft Critical and Packet Power's EMX Energy Portal Software at the same time."

EkkoSense's EkkoSoft Critical software delivers cooling energy savings, helping data centers to reduce cooling energy consumption at a time when ESG demands have never been higher. With EkkoSoft Critical, EkkoSense delivers a compelling business case, enabling true real-time M&E Capacity Planning for power, cooling and space at a fraction of the cost of more expensive and complex DCIM solutions. EkkoSense helps data center teams to secure immediate benefits, with its light-touch deployment and non-invasive nature contributing directly to carbon reduction targets. Video.

###
About Packet Power
Packet Power is a manufacturer of wireless power and environmental monitors and monitoring applications. By focusing on making products that are easy to install and manage, the company has become the leading wireless power monitoring platform for data centers and other critical facilities. Packet Power products are used in over 30 countries, and the company's cloud service handles over one billion energy readings every day. Packet Power was founded in 2008 and is headquartered in Minneapolis, Minnesota, USA.