EkkoSense extends Cooling Advisor data center optimization performance with new AI algorithms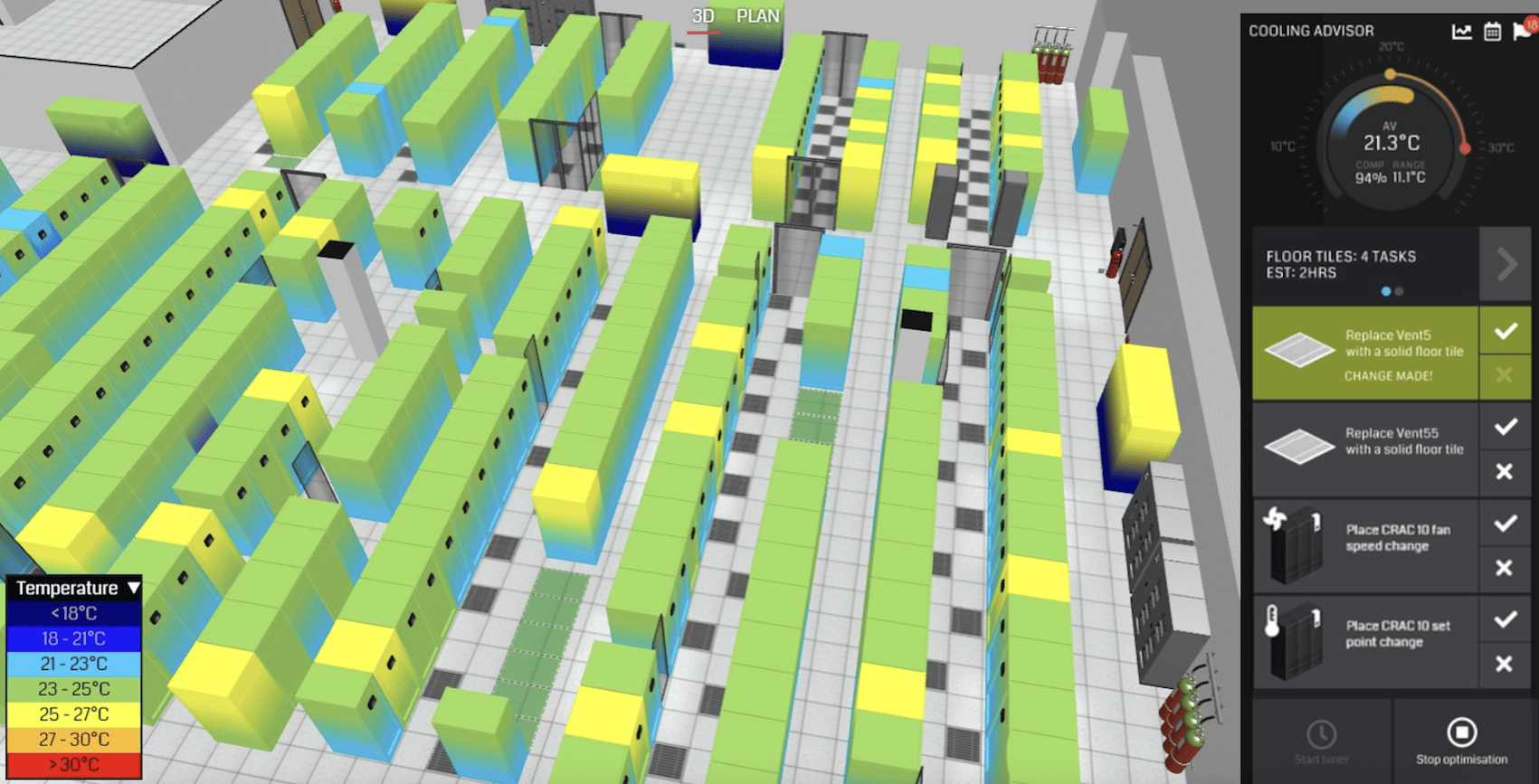 – Powerful machine learning/AI solution draws on real-time thermal data and best practice recommendations to help data centers stay fully optimized – video here
– Comprehensive risk mitigation and governance encourages operations teams to take full advantage of Cooling Advisor optimization suggestions

16th March 2022 – EkkoSense, the leading provider of next generation software-based data center optimization solutions, has extended the performance of its powerful Cooling Advisor machine learning and AI-powered advisory software tool.
Cooling Advisor not only helps data center operations teams to keep their critical facilities thermally-optimized, but also applies powerful machine learning and AI technology to provide valuable, proactive thermal advice. This helps facilities managers, energy managers and data center operations teams to ensure that cooling, power and capacity performance across their critical facilities stays fully optimized.
"Unlike traditional DCIM approaches that generally only offer Infrastructure Monitoring rather than Infrastructure Management, EkkoSense's Cooling Advisor is significant because it provides valuable proactive thermal advice that's always backed by clear recommendations that enable data center teams to make immediate improvements," said EkkoSense Non-Executive Director, Mark Acton.
"Rather than rely on unwieldy automation solutions, Cooling Advisor enables a more light-touch approach to DCIM with operations teams supported by AI-powered, actionable recommendations for greater human auditability. Operators always maintain control over decisions, with the ability to discount Cooling Advisor recommendations where they have additional site insights," he added. "And instead of just monitoring and alerting, Cooling Advisor is able to translate data collected into valuable management information that enables data centers to stay optimized and secure both cooling energy and cost savings."
Built right into the heart of the EkkoSoft Critical SaaS-based M&E optimization and capacity management solution, Cooling Advisor is the industry's first process-driven embedded advisory capability available as part of a thermal optimization solution. By following the clear recommendations offered by Cooling Advisor's algorithms, data center teams can keep on track in their journey to secure an average 30% cooling energy savings.
The latest 2022 Cooling Advisor release strengthens the overall optimization process and features new AI algorithms and variables to extend its capabilities. These include a new algorithm for AHU fan speed control to cover any units that have Fixed Variable and Dynamic Variable fans, as well as updated processes for low-risk tile removal, AHU standby and AHU setpoint adjustment. Additional features include the introduction of two clear parallel optimization paths, visible countdown timers to indicate the amount of time to wait until the next optimization, and the ability to flag and unflag items so that optimization suggestions are not repeatedly given for things that cannot be implemented on a specific site.
"Our 2022 Cooling Advisor release is focused on improving its overall optimization process, with new algorithms and a number of updated processes," added EkkoSense's Chief Product Officer, Paul Milburn. "We've also built-in a range of active risk mitigation features that provide clearly defined steps, clear back-out mechanisms and logging of all user inputs within Cooling Advisor to give teams the confidence they need to take advantage of our recommendations. Now it's even easier for operations teams to make sure their critical facilities stay optimized on a year-round basis."
Cooling Advisor keeps on learning. Powered by machine learning insights drawn from billions of EkkoSoft Critical data points, Cooling Advisor also draws on the deep cooling optimization best practice expertise gained from the many years' practical experience of EkkoSense's team of dedicated, PhD-level thermal, software and electronics engineers.
Key Cooling Advisor features include:
· Clear Guidance on Cooling Adjustments
Thanks to EkkoSoft Critical's round-the-clock monitoring of temperatures, Cooling Advisor can offer focused guidance for adjustments to cooling unit setpoints, cooling unit standby and cooling unit fan speed adjustments
· Identify Floor Grilles that should be removed or relocated
Simply by acting on Cooling Advisor recommendations, data center teams can take control of thermal optimization – for example, by identifying a better floor grille layout to target air delivery only where it is needed
· Full Risk Mitigation and Governance
Cooling Advisor ensures mitigation of risk by defining clear steps, providing obvious back-out mechanisms and offering clear logging of all user inputs and engagements within Cooling Advisor
· Streamlined Optimization Process
Key features here include the use of tasklists to group related tasks together, the ability to flag and unflag items that cannot be implemented in a specific site, as well as visible countdown timers to prevent potentially overlapping changes prior to confirmed optimization
###
About EkkoSoft Critical
EkkoSoft Critical software delivers an average 30% cooling energy saving, significantly reducing cooling equipment capex investment requirements and delivering a valuable contribution to corporate NetZero commitments through sustained carbon usage reductions in the data centre. The EkkoSense solution provides an attractive business case as it enables true real-time M&E Capacity Planning for power, cooling and space – at a fraction of the cost of more expensive and complex DCIM solutions.