EkkoSense 'Zones of Influence' algorithm provides real-time insight into the relationship between IT racks and specific cooling units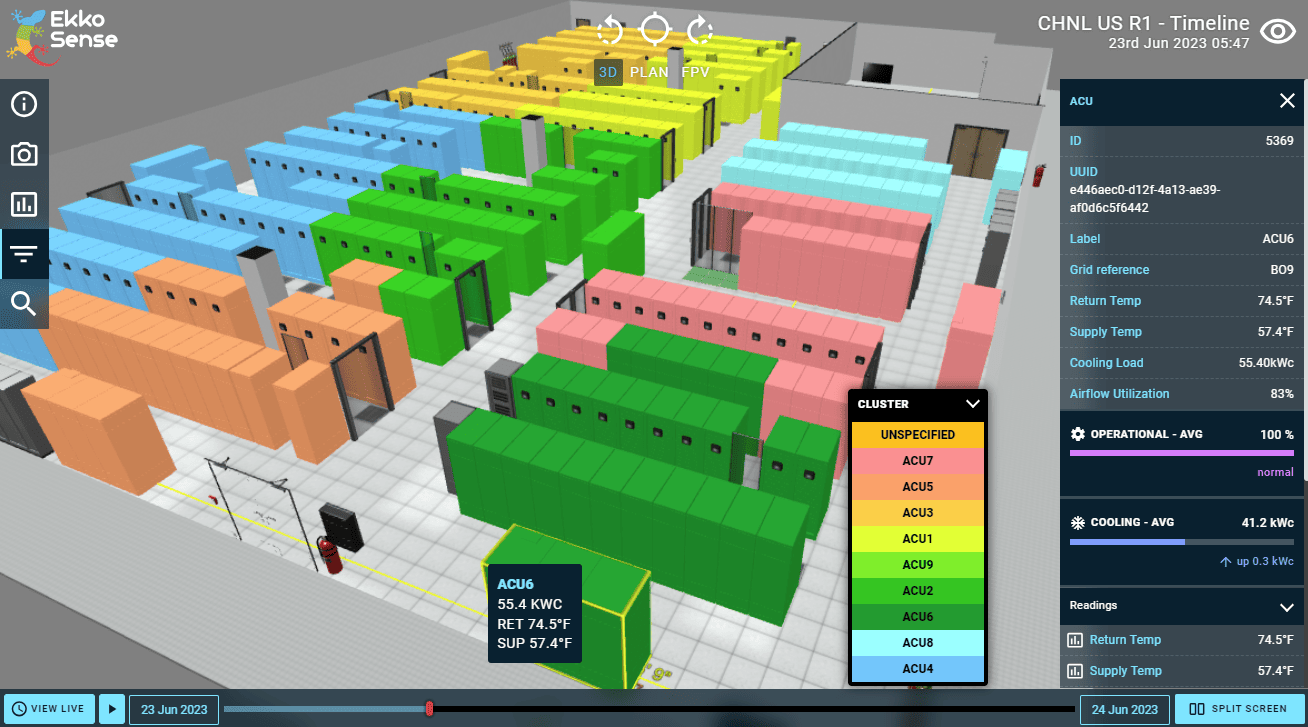 Latest EkkoSoft Critical update extends the Zones of Influence Machine Learning algorithm to give data center operations teams even greater control over their cooling optimization.
EkkoSense, the global leader in the provision of AI-powered data center optimization software, has announced major new updates to its innovative 'Zones of Influence' algorithm as part of its latest EkkoSoft Critical software release.
The new Zones of Influence algorithm provides data center operations teams with a unique, real-time insight into the relationship between groups of IT racks and specific cooling units. This enables the creation of live airflow Zones of Influence, with racks grouped into clusters with the cooling unit that's provisioning them. Potential cooling anomalies can also be detected by uncovering critical Zones of Influence.
"By sharing Zones of Influence insights with EkkoSoft Critical's fully-embedded, AI-driven Cooling Advisor tool, operations teams will be able to see precisely which cooling units could be put into standby, or turned down if they're using variable speed fans," explained EkkoSense's Chief Product Officer, Paul Milburn. "Zones of Influence is a great example of how EkkoSense takes advantage of the latest Machine Learning-based algorithms to help unlock significant savings for data center operators. With this latest release, we're introducing important new enhancements to the Zone of Influence algorithm, as well as further updates to EkkoSoft Critical's Permissions feature."
EkkoSoft Critical introduces AI and Machine Learning technology into traditional data centre optimization, with software that provides comprehensive 3D monitoring and visualization, AI-enabled evaluation and analytics, and comprehensive capacity management support. This combines to deliver lower thermal and power risks for data center operators, resulting directly in data center cooling energy cost and carbon reductions that help operations teams to deliver on their corporate ESG requirements.
The Zones of Influence algorithm updates include:
· Extending the algorithm to cover new cooling technologies such as fan wall arrays.
· An improved algorithm for rooms where combined cooling delivery units are used – such as In Row and standard Downflow units.
· Support for OEM units providing the right integration is available.
· Simplified initial configuration.
EkkoSense has also added a number of enhancements to EkkoSoft Critical's Permissions & User Groups capability, including:
· The ability to export desired room views and download as layout image files.
· New datatypes available for device configuration.
· The ability to view permissions for each user and list of users within a user group.
· User login history views now available for Organization Admins going back 90 days.
EkkoSense will continue to extend the performance of EkkoSoft Critical, with the next key release scheduled to feature a major refresh of the software's Estate Page navigation. This update will optimize site-level visibility, with comprehensive estate-wide reporting for thermal performance, site and room power usage, as well as full capacity utilization updates. The company's R&D team is also focused on taking its capacity planning capability further forward, with plans to offer an entirely new grey-space simulation capability at a later date.

EkkoSense's EkkoSoft Critical AI-powered optimization software delivers quantifiable reductions in cooling energy usage, helping data centers to reduce energy consumption and deliver quantifiable carbon savings to support corporate sustainability and ESG programmes. With EkkoSoft Critical, EkkoSense delivers a compelling business case, enabling true real-time M&E Capacity Planning for power, cooling and space at a fraction of the cost of more expensive and complex DCIM solutions. With its light-touch, software-based approach and non-invasive nature, EkkoSense also helps data center teams to secure immediate benefits with results achieved in just weeks, and project ROI timescales of under 12 months in many regions. Video.