GTE4S Group partners with EkkoSense to bring AI-powered data center cooling optimization to its clients in North Africa and the Middle East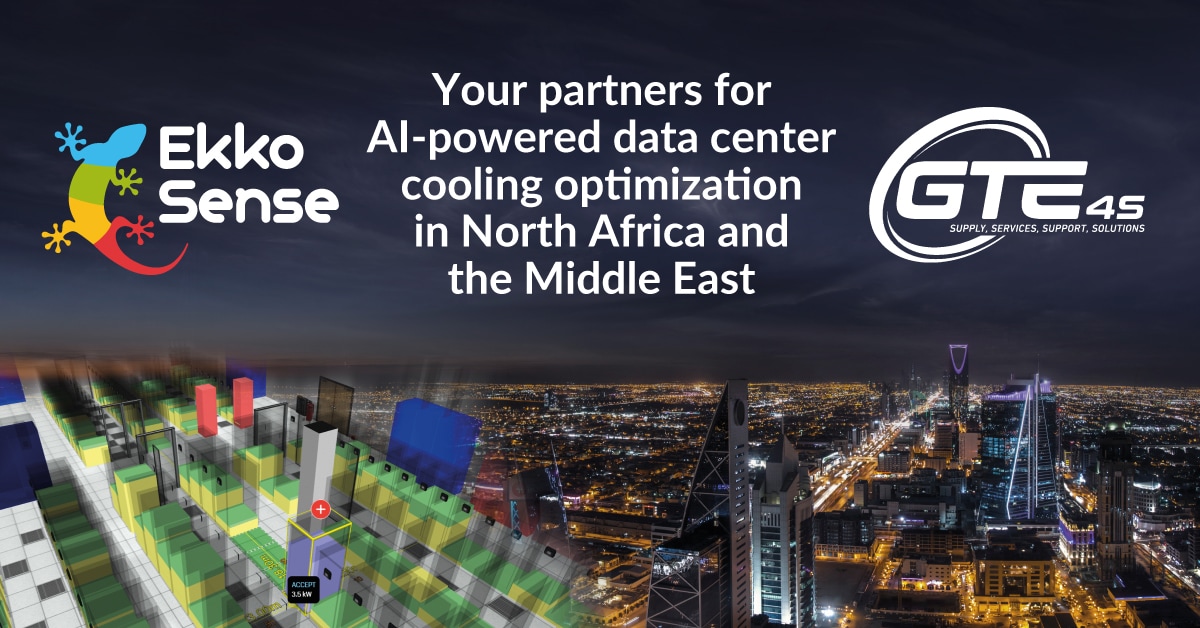 14th July 2023 – Data center optimization specialist EkkoSense has appointed Cairo, Egypt-based GTE4S Group as a solutions and services partner for the North African and Middle East markets. Operating out of Cairo and Riyadh, Saudi Arabia, GTE4S will add EkkoSense's AI-powered EkkoSoft Critical optimization software to its portfolio of data center power, cooling and infrastructure solutions.
EkkoSoft Critical delivers quantifiable cooling energy savings, helping data centers to reduce cooling energy consumption at a time when ESG demands have never been higher. GTE4S has a proven track record of delivering turnkey data centre solutions for power management, cooling infrastructure and operation and maintenance of critical facilities, and EkkoSoft Critical's ability to remove thermal risk while securing quantifiable carbon savings will unlock added value for GTE4S customers.

Commenting on the partnership, Ibrahim Saleh CEO of GTE4S (General Telecom and Electric) said: "EkkoSoft Critical offers a compelling proposition for data center operations, enabling true real-time M&E Capacity Planning for power cooling and space at a fraction of the cost of more expensive and complex DCIM solutions. We look forward to helping our customers take advantage of this exciting technology."
"We've developed EkkoSoft Critical to be particularly easy for data center operations teams to implement, understand and use in-house – backed by exceptional ROIs of often less than 12 months," added Matthew Farnell, EkkoSense's Director of Sales for EMEA. "Our light-touch, AI-enabled software-driven approach – with small wireless sensors fitted on the outside of each rack – is simple to deploy and compatible with existing data center security processes. EkkoSense will be a great addition to the GTE4S data center portfolio!"

EkkoSense's EkkoSoft Critical AI-powered optimization software not only shows what's happening from a power, cooling and capacity perspective, but also why – allowing teams to make informed decisions on how to resolve issues. And, by introducing powerful algorithms that correlate the relationship between the critical infrastructure and IT load, EkkoSense helps to materially reduce potential downtime events through continual optimization. The software observes changes in the environment in real-time and will often inform operations teams that a failure is going to occur long before it materializes.
GTE Group
GTE Group was founded at 2017 in Egypt to offer the integrated solutions and services in the Egyptian, African and Middle East telecom and ICT market through our experts, qualified resources, and international partners of industry leaders.
https://gte4s.com/about/
About EkkoSense
EkkoSense is an industry leader in the provision of advanced sensing technology, SaaS DCIM-class visualization & monitoring software and analytics solutions for critical facilities such as data centers. The company is committed to eliminating thermal risk and helping organizations to monitor, manage and maximise their data center performance. www.ekkosense.com Follow us on Twitter @ekkosenseUK.
Contacts:
Hussei El Kholy – COO GTE4S
+201030405930
+966542201799
[email protected]
Cheryl Billson – PR for EkkoSense
+44 (0)7791 720460
[email protected]