How AI and Machine Learning are set to change the game for data center operations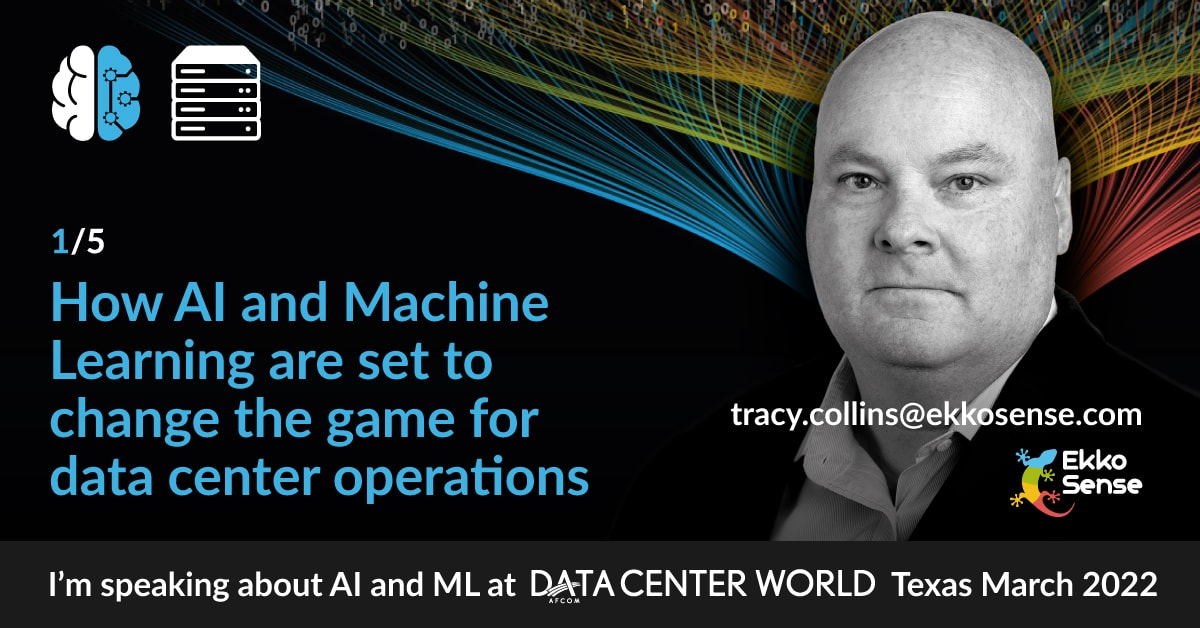 Before joining EkkoSense, I led a regional colocation provider called Simple Helix, and prior to that spent over 21 years with Vertiv – one of the largest suppliers of critical infrastructure for the data center industry. I've spent my entire career in data centers and have lived through all the challenges and limitations our sector faces around managing the issues balancing critical infrastructure and IT loads. So, I'm fully aware of the complexities involved in striking the right balance between efficiency, performance, risk, and costs across all your facilities.
In reality, most data centers continue to follow traditional operating models that have been in place for decades. The environment is built to support the assumed and anticipated needs associated with the IT workload. Flexibility and future capacity are typically designed in and, in many cases, built out. But, practically speaking, monitoring is focused on failures and alerts – measuring performance and understanding the relationship between the IT load and the critical infrastructure on a continuous basis rarely occurs.
The primary reason for this is the sheer volume of data involved and the fact that most of the tools required to interrogate and interpret this data still rely on human capital. The application of machine learning (ML) and artificial intelligence (AI) capabilities creates a new paradigm in how to approach data center operations. Now, data centers leveraging machine learning to monitor their critical infrastructure and IT load benefit by having better real time visibility of the operation, any potential risks and how to address them – while also reducing energy consumption and lowering operating costs significantly.
We're already seeing hyperscale data center operators achieving unprecedented efficiency and environmental performance levels, and they remain at the forefront of leveraging AI/ML to operate their facilities more efficiently than ever. Google, for example, has been working for over a decade to make its data centers as efficient as possible, and says that they are now twice as energy efficient as standard enterprise data center. Indeed, using AI they have been able to consistently deliver energy savings of around 30% on average.

This is an impressive performance, and perhaps one that can seem daunting to those enterprise operations and colocation sites that have been slower to adopt AI/ML. Ironically, it's these sites that face greater diversity across their operations than their hyperscale counterparts – and this complexity makes it more challenging for them to find and maintain the correct balance between risk, efficiency, and cost. However, by implementing an AI/ML-based solution, they can move quickly to address these challenges and deliver the results their customers and business require, while also lowering risk and costs. That's where EkkoSense and its distinctive EkkoSoft Critical AI-powered software optimization approach for critical data centers can help.
EkkoSense is the only organization to directly address the fundamental challenge of allowing operations teams to gather and visualize data center cooling, power, and space data at a granular level, while incorporating machine learning. We do this by bringing together an exclusive mix of technology and capabilities – including an innovative SaaS platform, low-cost Internet of Things (IoT) sensors, machine learning, AI analytics and PhD-level thermal skills. The result is a 3D visualization and analytics platform that's particularly easy for operations teams to implement, use and understand. This lets you visualize airflow management improvements, manage complex capacity decisions, and quickly highlight any worrying trends in cooling performance.
Already we're seeing customers using EkkoSoft Critical securing average data center cooling energy savings of 30% – equivalent to the cooling energy savings achieved by hyperscale operators such as Google – by applying our machine learning and AI-enabled approach to data center optimization. So how can organizations put these technologies to work across their own operations? Over the next few weeks, I'll be sharing a series of articles that will set out the specific challenges that operations teams face – covering:
· The current state of data center optimization – why most operators are still in the dark
· Why capturing critical data at a more granular level opens up the potential for AI-enabled data center optimization
· How 3D visualization and AI-powered analytics makes it so much easier for data center teams to support instant optimization decisions
· The five key steps underpinning AI & Machine Learning powered data center operations – and the specific benefits that you can expect to unlock by following this approach
Look out for my next article discussing why most operators are still in the dark about data center optimization. Download EkkoSense's machine learning and AI white paper here or get in touch for a free demonstration of the power of EkkoSoft Critical AI.