Solving 2022's key data center optimization challenge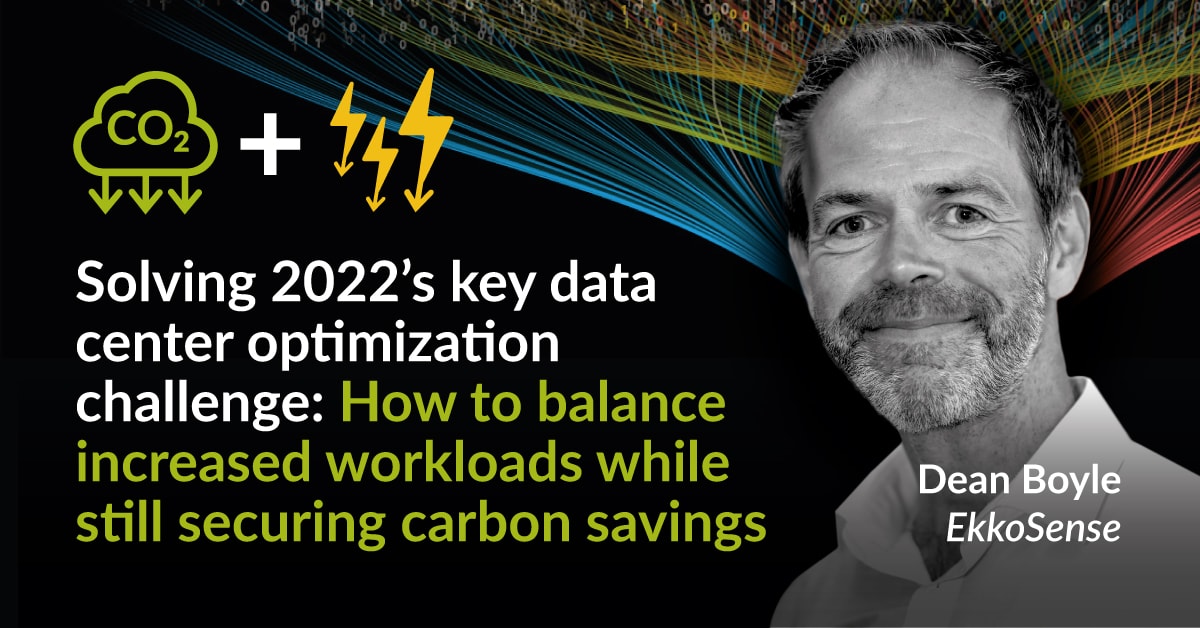 "Currently very few operations have either the real-time data center cooling,
power and capacity performance visibility or available in-house optimization
expertise they need to meet these conflicting goals – increase workload while
also reducing energy," explained Dean Boyle, CEO at EkkoSense –
the leading provider of software-driven data center optimization solutions. "And
with critical facilities now coming under increased pressure to reduce their
carbon consumption, particularly as corporate net zero commitments start to
bite, 2022 looks like it's going to be another challenging year for data center
teams.

"However it's going to be hard for operations teams to address both data center
workload and energy saving goals unless they prioritize performance
optimization across all their critical facilities," added Dean. "And this means
knowing exactly where they're starting from in terms of energy usage, and also
in data center resourcing. Sustained pressure on the high energy users within
organizations mean that the days of simply throwing more cooling at workload
issues are over. For 2022 the focus will need to be on Smarter Resourcing, Data
Granularity, Visibility, Empowering Operations with AI, and Measurable Net Zero
contributions."
1.     Be smarter with your resourcing – if data center teams are being tasked with unlocking carbon savings,
it's essential that they have the right people in place to drive energy savings
across their operations. But with demand for digital services showing no sign
of slowing down, 2022 will continue to see a shortage of skilled professionals
across data centers, with recruitment concerns amplified by 'the great
resignation'. This will place an increased emphasis on decoupling skilled staff
from specific locations, with the latest cloud-based optimisation solutions
helping teams to optimise cooling capacity and minimise energy usage –
regardless of location. The impact of the pandemic – particularly the
difficulties involved in getting people into a critical facility plus the
emergence of remote 'dark' Edge sites – means that people will be focused on enhancing
remote monitoring for 2022.
2.     Improve data granularity – for true data center performance optimization, it's essential to monitor and
report temperature and cooling loads much more actively. ASHRAE suggests a
minimum of three temperature sensors per rack, but to achieve this probably
requires around 10x more sensors than are currently deployed in today's typical
data center. EkkoSense research shows that only around 5% of M&E teams
currently monitor and report actively on an individual rack-by-rack basis – and
even less collect real-time cooling duty. However, if you want to track cooling
loads in real-time – and generate the kind of machine learning insights you'll
need to enable true AI-powered optimization – there's no option but to go granular.
And with the availability of the latest ultra-low-cost wireless sensors,
there's really no excuse not to do this in 2022.
3.     Increase your visibility
with Digital Twins –
One of the main barriers to data center optimization has always been the
complexity of traditional DCIM and CFD solutions. That's why if you're
seriously looking to optimize performance it makes sense to make things as
simple and accessible as possible for operations teams. Building an intuitive
'digital twin' of your data center lets you take things to the next level,
providing clear visualizations that help to successfully communicate inevitably
complex data. This, in turn, makes it much easier to see what's happening
across your estate, highlighting potential anomalies and displaying suggested
airflow and cooling improvements.
4.     Empower your operations
with AI – while the vision of data center automation remains attractive to CIOs,
the reality is that automated controls are much less able to accommodate the
continual, inevitable workload changes that always happen in data centers. So
rather than treat machine learning and AI as a universal solution, we expect to
see data center teams in 2022 focusing on those areas – such as cooling
optimisation and airflow management – where these technologies can be applied
and deliver significant results. But rather than rely on unwieldy automation
solutions, we see a light touch DCIM approach – with operations teams provided
with AI-powered, actionable recommendations – proving a smarter choice in 2022
and beyond.
5.     Secure measurable Net Zero contributions –
at COP26 both countries and leading brands signed up to ambitious net zero
targets, and 2022 will start to see a much tighter link between financial and
carbon budgets. In the UK, proposed Treasury rules suggest that financial
institutions and companies with shares listed on the London Stock Exchange will
need to come up with net-zero transition plans that detail their greenhouse gas
emissions targets and the steps they will be taking to achieve them. Unfortunately,
it's difficult for data center teams to deliver a precise carbon reduction on
their operations if they don't know exactly how much energy they're using in
the first place. Our own research at EkkoSense suggests that very few teams
really know how their rooms are performing from a cooling, capacity and power
perspective. This will need to change if data centers are to make a significant
contribution to corporate carbon reduction activities.
"The
good news for data center teams looking to support both increased workloads
while also securing quantifiable energy savings in 2022, is that pursuing a
software-enabled approach to data center performance optimisation can help
achieve these goals," added Dean Boyle. "Combining the collection of granular
real-time data, understanding the zones of influence that exist between
specific cooling assets and the racks they're cooling, and unlocking the
potential of AI-powered optimization recommendations will help to put control
back in the hands of data center teams. Our experience suggests that following
this kind of approach can help keep data center teams on track in their journey
to achieve cooling energy savings – with average savings of 30%
already achievable."
About EkkoSense
EkkoSense is an
industry leader in the provision of advanced sensing technology, SaaS
DCIM-class visualization & monitoring software and analytics solutions for
critical facilities such as data centers. The company is committed to
eliminating thermal risk and helping organizations to monitor, manage and
maximise their data center performance. www.ekkosense.com  Follow us on Twitter @ekkosenseUK