CBRE is taking data centre optimisation to the next level with EkkoSense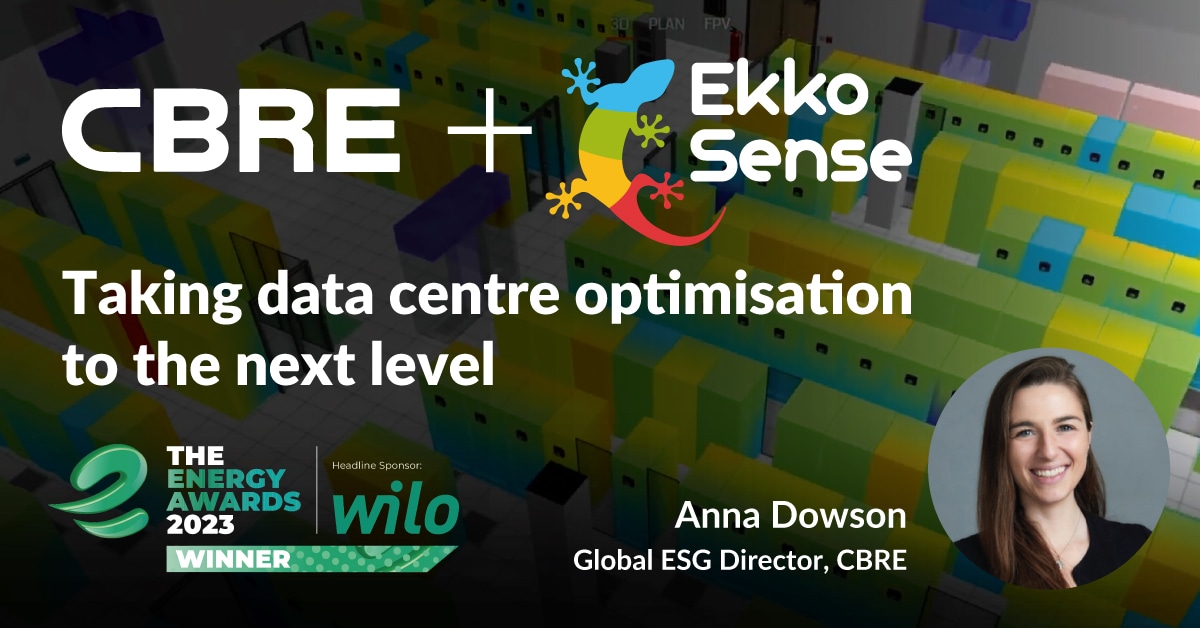 By Anna Dowson, Global ESG Director, CBRE 
 
Last month, winning the prestigious Digital Innovation of the Year category at EMAP's 2023 Energy Awards for CBRE's project for Three UK using technology from EkkoSense was great.  
 
Our award submission detailed how EkkoSense worked with CBRE to help Three UK secure a 12.5% data centre cooling energy saving. And we deployed this project in just eight weeks! It helped Three's data centre operations team achieve a tangible cost saving and secure savings towards the company's corporate energy reduction target across its legacy data centres. 
 
The 2023 Energy Awards team of judges recognised this achievement, saying that "the EkkoSense project demonstrated great analysis and a practical approach to support energy reduction in data centres with fantastic tangible benefits. This could deliver significant savings across the industry in supporting the net zero transition". 
 
It's this ability to not only deliver quantifiable energy and carbon savings, but also to provide data centre operations teams and colocation service providers with the real-time insights they need to make smart optimisation decisions that enable EkkoSense to support partners like CBRE in making a real difference for our clients. It's a powerful capability that the 2023 Energy Awards judges chose to recognise ahead of shortlisted entries from organisations such as UK Power Networks, RiT Tech, npower Business Solutions, National Grid ESO, National Gas Transmission, and Arup. 
 
What about the EkkoSense proposition helps organisations like Three UK and others make such a difference? Why does it matter for today's data centre operations, and how is the solution evolving to stay relevant over the coming years? 
Founded to optimise data centre thermal and power performance, EkkoSense developed its EkkoSoft Critical AI-driven software tool to help operations teams track their thermal, power and capacity performance in real-time. 
Temperature, humidity, and capacity data are captured much more granularly, enabling EkkoSense to build an optimisation data lake that now features billions of data points. This core machine learning data allows entirely new levels of optimisation insight.
Having immediate access to this data via intuitive 3D Digital Twin visualisations helps organisations see precisely what's going on in their critical facilities, with potential problems visible much earlier and ahead of when they might eventually get picked up by BMS alerts.
So, while everyone else is just talking about sustainability and carbon offsets, EkkoSense is helping customer teams make tangible improvements and run their data centre operations more efficiently. The EkkoSoft Critical software platform first shows what's happening and then tells you why – allowing ops teams to make informed decisions about how to resolve issues.
Continuous optimisation  – the embedded Cooling Advisor tool applies powerful machine learning and AI technology to provide proactive thermal advice – helping ops teams stay on top of evolving data centre performance through continuous optimisation. 
Helping to accommodate increasing workloads while also staying on top of imminent EU CSRD and EED ESG reporting requirements – new embedded reporting capabilities within EkkoSoft Critical will enable ops teams to automate the production of ESG and sustainability reports and metrics at a fraction of the time and cost of legacy DCIM and BMS approaches.