Launch of EkkoSoft Critical 6.0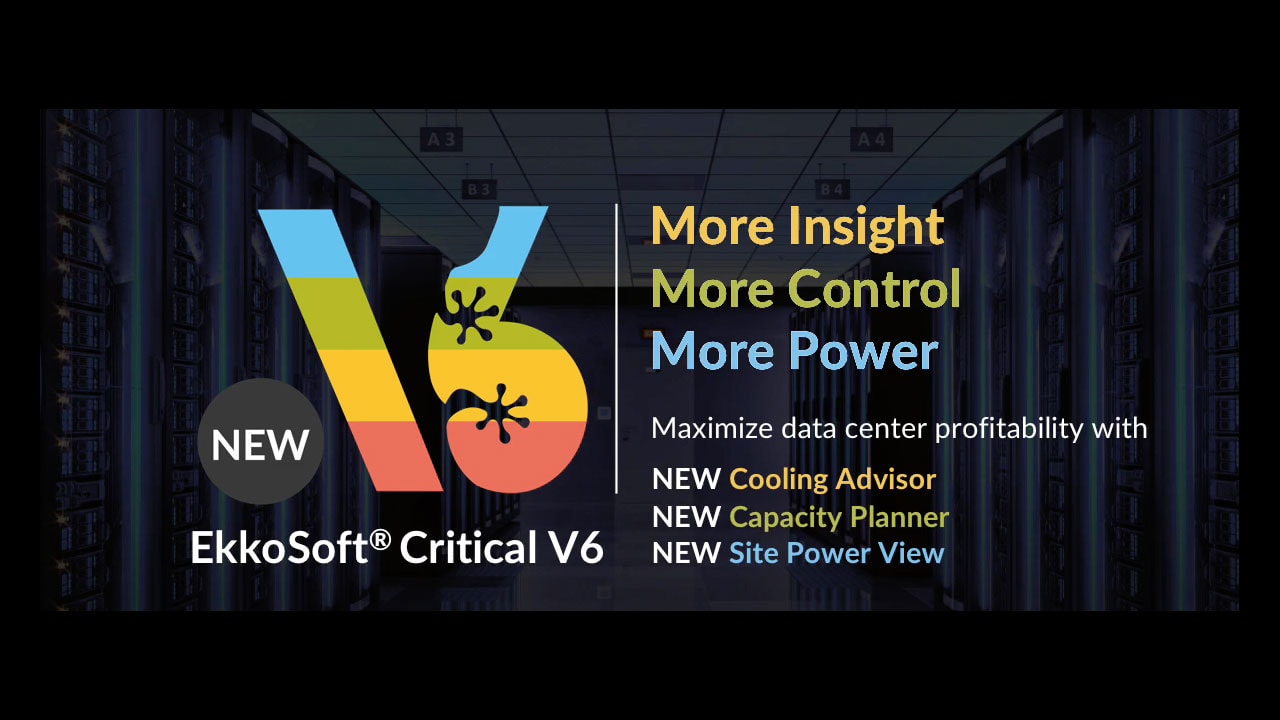 EkkoSoft Critical 6.0 goes beyond traditional capacity reporting to address all aspects of data centre estate performance

New EkkoSoft Critical release enables true real-time M&E Capacity Planning for data centre power, cooling and space

5th Nov 2019: EkkoSense is launching a major new software release. EkkoSoft Critical 6.0 is a distinctive SaaS-based solution that combines granular IoT sensor data with the latest intuitive 3D visualisation techniques to make immersive real-time monitoring and planning of data centre power, cooling and space a reality.

The latest release goes beyond traditional power, cooling and space reporting to offer true Capacity Planning at a fraction of the cost of more expensive and complex traditional DCIM solutions.

Key new EkkoSoft Critical 6.0 features include:

Capacity Planning – powerful capacity planning that features comprehensive Ticketing and Future Capacity support, as well as the ability to identify Power Allocation Variance and release stranded M&E capacity

Site Power View – a unique 3D power schematic visualisation that simplifies capacity management by showing detailed Power Usage across your estate by site, UPS, DC and cooling

Cooling Advisor – the world's first software-embedded advisory module that guides operational changes that can remove areas of thermal risk, improve compliance to industry standards and unlock 10%+ cooling energy savings in-house – simply by acting on advice

Updated Estate Views – helps data centre operations teams to manage their entire estate's power and cooling performance, compare site-by-site efficiencies and track performance and compliance against key cooling, power and capacity targets

"With EkkoSoft Critical 6.0 we're introducing functionality that will simplify performance management for data centre operational teams and capacity managers," commented EkkoSense's CEO Dean Boyle.

"Now, instead of relying on unwieldy spreadsheets and complex DCIM systems to manage changes to their data centre estate, EkkoSoft Critical 6.0 provides a suite of powerful, intuitive tools to enable organisations to manage their space, power and cooling capacity planning in real-time. Significantly, this capability is also available at a fraction of the cost of legacy DCIM solutions.

"Our new Capacity Planning functionality provides far greater control, allowing data centres to be run much leaner. EkkoSoft Critical customers will also be able to take advantage of comprehensive Site Power capabilities that show detailed power usage across your data centre estate, and our Cooling Advisor capability embedded into 6.0 also enables data centre teams to unlock around 10% cooling energy savings in-house, simply by acting on its advice,"

Combining EkkoSoft Critical 6.0 with EkkoSense's range of Critical Things sensor technology provides organisations with a unique solution for monitoring, planning and optimising their data centre performance. Customers using EkkoSoft Critical benefit from 100% rack-level ASHRAE thermal compliance, a 24% average data centre cooling energy savings, as well as real-time cooling capacity insight to prevent unnecessary capex spending on new cooling systems.


About EkkoSense:
EkkoSense is an industry leader in the provision of advanced sensing technology, SaaS DCIM-class visualisation & monitoring software and analytics solutions for critical facilities such as data centers. The company is committed to eliminating thermal risk and helping organisations to monitor, manage and maximize their data center performance.
EkkoSense solutions are available directly, or through the company's expanding network of international partners across North and South America, Latin America, Europe, the Middle East and Asia Pacific.
---
www.ekkosense.com
Follow us on Twitter @ekkosenseUK
Press Contact: Cheryl Billson, Comma Communications – PR for EkkoSense,
+44 (0)7791 720460
[email protected]