EkkoSense and ASSETSPIRE announce technology integration to offer innovative alternative to traditional DCIM.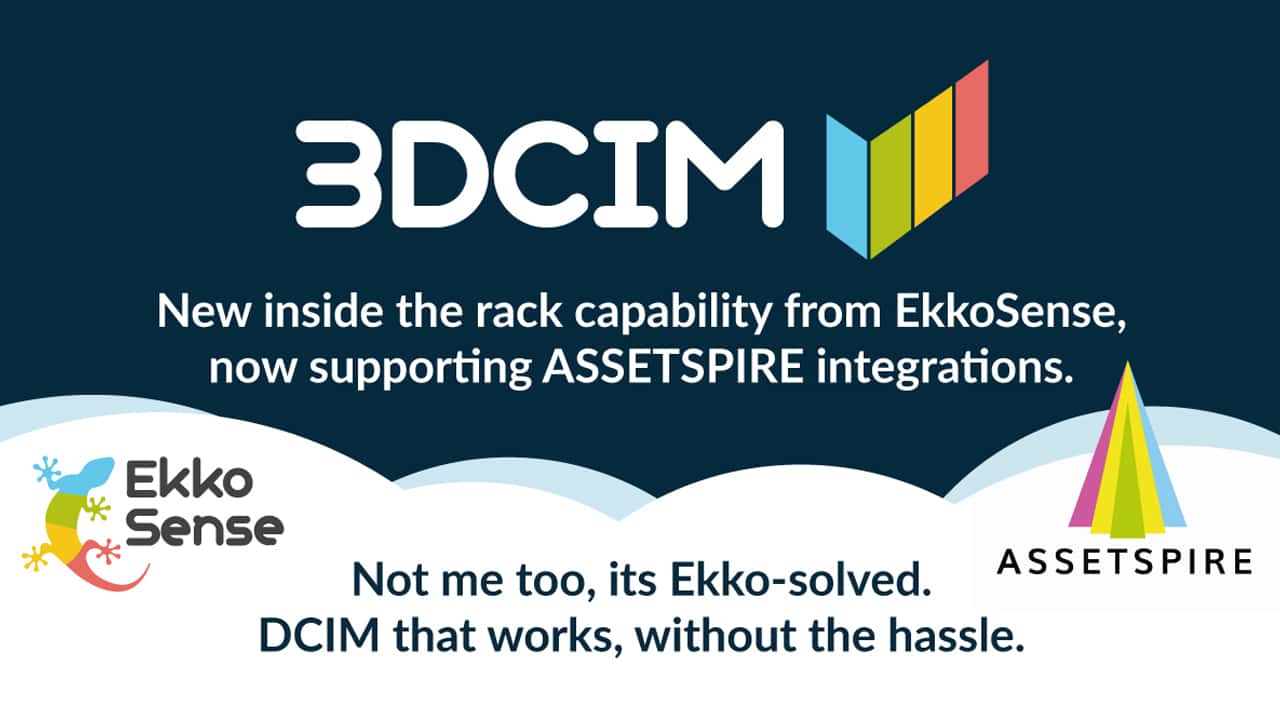 Next generation 3DCIM approach enables asset management, real-time thermal optimization and M&E capacity management integration in one single, intuitive solution
Makes enterprise-class DCIM available without the hassle and at a fraction of the cost of overly-complex legacy DCIM tools, targeting a genuine ROI of less than 12 months
EkkoSense, the leader in the provision of software-driven optimization solutions for critical M&E environments, has partnered with ASSETSPIRE, developers of SPIRE – the truly flexible enterprise asset control platform for data centers. Together the two companies will support data center operators with an innovative 3DCIM alternative to legacy Data Center Infrastructure Management (DCIM) challenges – making enterprise-class DCIM available 'inside-the-rack' at a fraction of the cost of traditional, outdated DCIM solutions.

Both companies have developed intuitive, cloud-based performance optimization and management solutions for data center operations. ASSETSPIRE's customizable asset control platform enables the fast and accurate capture of any data center asset, in a solution that's particularly flexible and easy-to-use and keep up to date. EkkoSense's 3D visualization and analysis solution makes it simple for data center operations teams to collect granular real-time thermal, power and capacity data, enabling them to visualize airflow management improvements and manage complex capacity and risk decisions across facilities.
"To date, most of the solutions classed as DCIM have only really offered very basic M&E monitoring capabilities rather than the truly integrated infrastructure management offering initially promised by vendors. However, DCIM doesn't need to be that way," explained EkkoSense's CEO, Dean Boyle "At EkkoSense we've created a unique machine learning and AI-powered solution for monitoring, planning and optimizing the performance of critical data center environments. But, unlike traditional DCIM tools, we go much further to offer a solution that not only picks up on potential data center problems or underlying negative trends, but also suggests recommended actions to resolve thermal issues, simplify capacity management and optimize cooling energy. The proven self-installation timescales of days, not weeks, will also bring benefits to customers almost immediately – along with a rapid, sub 12 months return on their investment."

"ASSETSPIRE's SPIRE is a highly complementary solution for EkkoSense, going way beyond basic asset management to embrace a far more dynamic monitoring model," added Syed Akhtar, EkkoSense's EMEA Director of Sales for EkkoSense said: "By integrating SPIRE with EkkoSoft Critical we're enabling customers to track all their data center assets, monitor their operation at a granular level, and then visualize real-time performance using our intuitive 3D visualization technology. And thanks to EkkoSense's machine learning and AI models, our combined 3DCIM approach not only highlights potential problems as they occur, but also offers clear recommendations to help resolve issues before they have a chance to develop. It's DCIM that works without all the hassle and at a fraction of the cost of traditional DCIM solutions."

"SPIRE is a highly intuitive, customizable asset control platform, and integrating it with EkkoSoft Critical to create a distinctive 3DCIM approach will unlock significant benefits for data center operational teams looking to gain a complete picture of all their assets and their performance," said Steve Beber ASSETSPIRE's CEO. "With our SaaS delivery model, flexible architecture and API integration, SPIRE is a great fit for EkkoSense. We look forward to working together and sharing the benefits of our next generation real-time 3DCIM alternative with the global data center community."
###
EkkoSoft Critical software delivers an average 30% cooling energy saving, significantly reducing cooling equipment capex investment requirements and delivering a valuable contribution to corporate NetZero commitments through sustained carbon usage reductions in the data centre. The EkkoSense solution provides an attractive business case as it enables true real-time M&E Capacity Planning for power, cooling and space – at a fraction of the cost of more expensive and complex DCIM solutions.
About EkkoSense
EkkoSense is an industry leader in the provision of advanced sensing technology, SaaS DCIM-class visualization & monitoring software and analytics solutions for critical facilities such as data centers. The company is committed to eliminating thermal risk and helping organizations to monitor, manage and maximise their data center performance.
About ASSETSPIRE
Founded in 2008, ASSETSPIRE is a leading provider of next generation dynamic data centre asset management solution. The company's SPIRE asset management platform including IOS/Android Apps is easy-to-use, capturing assets with 100% accuracy, and available via a cloud-based subscription model to provide true enterprise support. SPIRE provides complete visibility of data centre assets across entire organizations, and integrates with key partners such as EkkoSense to enable clients to track their assets in real-time.
Press Contact: Cheryl Billson, Comma Communications – PR for EkkoSense, +44 (0)7791 720460, [email protected]